The Book Of Lists by Wallechinsky David & Wallace Amy
Author:Wallechinsky, David & Wallace, Amy [Wallace, Amy] , Date: February 2, 2018 ,Views: 1820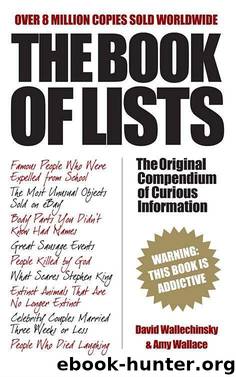 Author:Wallechinsky, David & Wallace, Amy [Wallace, Amy]
Language: eng
Format: epub, mobi
Publisher: Canongate Books
Published: 2009-09-24T22:00:00+00:00



13 Deposed Dictators … After the Fall
IDI AMIN, Uganda
Amin seized power in 1971 and launched a reign of terror that led to the deaths of an estimated 300,000 people. Deposed in 1979, Amin was offered asylum in Saudi Arabia, with all living expenses paid. In 1989 he tried to return to Uganda using a false passport. He got as far as the Congo, where he was recognised and arrested and then sent back to Saudi Arabia. Amin died in 2003 at the age of 78. Ugandan president Yoweri Museveni vetoed a suggestion to give Amin a state funeral in order to win votes in his home region: 'I would not bury Amin. I will never touch Amin. Never. Not even with a long spoon.'
JEAN-BEDEL BOKASSA, Central African Republic
Bokassa seized power in 1965. In 1976 he declared himself emperor and a year later staged an elaborate coronation celebration that used up one-fourth of the nation's annual earnings. He was overthrown in 1979, but not before he had committed a series of horrible outrages, including ordering the massacre of schoolchildren who refused to buy uniforms made in a factory owned by Bokassa's wife. After he was ousted, he lived lavishly in Paris. Then, incredibly, he returned to the CAR, where he was arrested upon arrival and charged with murder and cannibalism. He was convicted of the former charge and was kept in 'comfortable confinement' in the capital city of Bangui. Bokassa was set free in 1993, when General Andre Kolingba, the country's latest dictator, ordered all the nation's convicts released. He died in 1996.
JEAN-CLAUDE DUVALIER, Haiti
When longtime Haitian dictator François 'Papa Doc' Duvalier died in 1971, the mantle of power passed to his 19-year-old son Jean-Claude, better known as 'Baby Doc', who also inherited the dreaded Tonton Macoutes secret police. Baby Doc was finally forced out of office in 1986 after widespread protest and flown out of the country on a US Air Force plane. Baby Doc and his wife, Michelle, not content with stuffing an Air Haiti cargo plane with plunder, bumped 11 passengers off their escape flight – including Michelle's grandparents – to make room for more loot. The Duvaliers settled on the French Riviera and spent millions of dollars a year before divorcing in 1990.
ERICH HONECKER, East Germany
As head of East German security, Honecker supervised the construction of the Berlin Wall in 1961. Ten years later he assumed leadership of the Communist Party. Among his more odious acts was ordering all border area to be mined and equipped with automatic shooting devices. With the fall of Communism in 1989, Honecker was put under house arrest. In 1991 he was flown from a Soviet military hospital near Berlin to Moscow itself. However, on July 29, 1992, the 79-year-old Honecker was expelled from the Chilean embassy where he had sought refuge and was flown back to Berlin to face charges of corruption and manslaughter. Because he was diagnosed as dying from liver cancer, Honecker was allowed to leave for Chile in January 1993.
Download


Copyright Disclaimer:
This site does not store any files on its server. We only index and link to content provided by other sites. Please contact the content providers to delete copyright contents if any and email us, we'll remove relevant links or contents immediately.