The Arabian Nights Entertainments: Consisting of One Thousand and One Stories, Told by the Sultaness of the Indies, ... Freely Transcribed From the Original Translation. ... by Anonymous
Author:Anonymous [Anonymous] , Date: May 4, 2021 ,Views: 61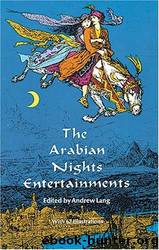 Author:Anonymous [Anonymous]
Language: eng
Format: epub
Tags: General, Fiction, History, Short Stories, History - General History, History: World, World history, Fairy Tales/Folklore
ISBN: 9781440095221
Publisher: BiblioBazaar, LLC
Published: 2010-03-01T08:00:00+00:00



THE HISTORY OF PRINCE ZEYN ALASNAM AND THE SULTAN OF THE GENII.
A sultan of Bussorah, who possessed great wealth, and was well beloved by his subjects, had no children, which occasioned him great affliction; and therefore he made presents to all the holy persons in his dominions, to engage them to beg a son for him of Heaven: and their prayers being effectual, the queen proved with child, and was happily delivered of a prince who was named Zeyn Alasnam, which signifies Ornament of the Statues.
The sultan caused all the astrologers in his kingdom to be assembled, and ordered them to calculate the infant's nativity. They found by their observations that he would live long, and be very brave; but that all his courage would be little enough to carry him through the misfortunes that threatened him. The sultan was not daunted at this prediction: "My son," said he, "is not to be pitied, since he will be brave: it is fit that princes should have a taste of misfortunes; for adversity tries virtue, and they are the better qualified to reign."
He rewarded the astrologers, and dismissed them; and caused Zeyn to be educated with the greatest care, appointing him able masters as soon as he was of age to receive their instructions. In short, he proposed to make him an accomplished prince, when on a sudden this good sultan fell sick of a disorder, which all the skill of his physicians could not cure. Perceiving his disease was mortal, he sent for his son, and among other things advised him rather to endeavour to be loved, than to be feared by his people; not to give ear to flatterers; to be as slow in rewarding as in punishing, because it often happens that monarchs misled by false appearances, load wicked men with favours, and oppress the innocent.
As soon as the sultan was dead, prince Zeyn went into mourning, which he wore seven days, and on the eighth he ascended the throne, taking his father's seal off the royal treasury, and putting on his own, beginning thus to taste the sweets of ruling, the pleasure of seeing all his courtiers bow down before him, and make it their whole study to shew their zeal and obedience. In a word, the sovereign power was too agreeable to him. He only regarded what his subjects owed to him, without considering what was his duty towards them, and consequently took little care to govern them well. He revelled in all sorts of debauchery among the voluptuous youth, on whom he conferred the prime employments in the kingdom. He lost all command of his power. Being naturally prodigal, he set no bounds to his grants, so that his women and his favourites insensibly drained his treasury.
The queen his mother was still living, a discreet, wise princess. She had several times unsuccessfully tried to check her son's prodigality and debauchery, giving him to understand, that, if he did not soon take another course, he would
Download


Copyright Disclaimer:
This site does not store any files on its server. We only index and link to content provided by other sites. Please contact the content providers to delete copyright contents if any and email us, we'll remove relevant links or contents immediately.