Text Completion & Sentence Equivalence GRE Strategy Guide by Manhattan Prep
Author:Manhattan Prep , Date: February 8, 2018 ,Views: 1124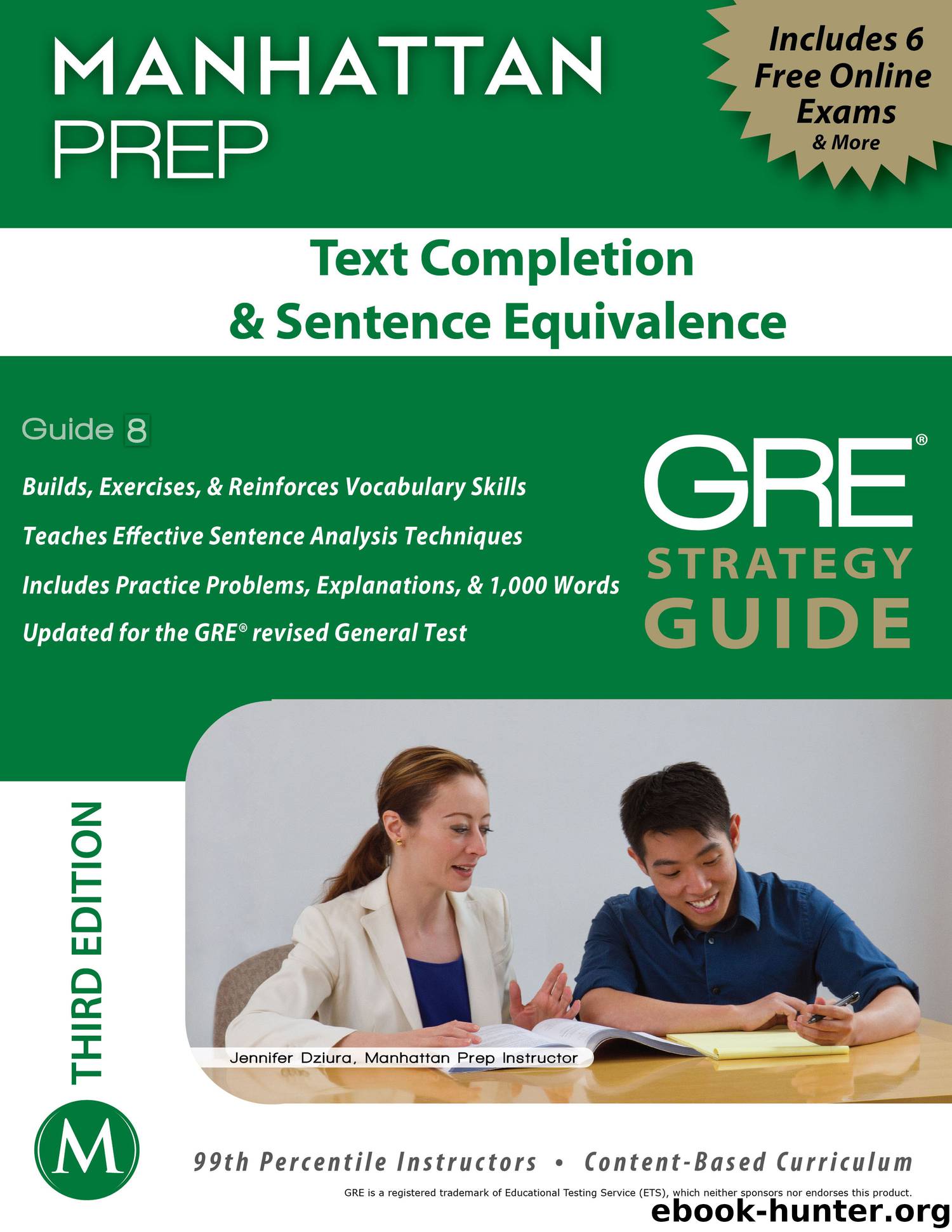 Author:Manhattan Prep
Language: eng
Format: epub
Publisher: MG Prep, Inc.



In This Chapter…
500 Essential Words for the GRE
500 Advanced Words for the GRE
500 Essential Words for the GRE
The list below contains 500 essential words that you should learn for the GRE. Do not move ahead to the advanced word list until you have learned these (advanced words can be found later in this book).
This list contains all of the words in the Manhattan Prep 500 Essential Words for the GRE flash card set (available for purchase on our website, on Amazon.com, and at major bookstores). However, the flash cards contain much more information about each word, including synonyms, etymologies, and idiomatic usages. If you already have the flash cards, we suggest using those as your primary study tool, and using this list as an alphabetic reference.
WORD P.O.S. DEFINITION USAGE
abate (verb) Reduce, diminish Her stress over spending so much money on a house abated when the real estate broker told her about the property's 15-year tax abatement.
abdicate (verb) Formally give up the throne (or some other power or responsibility) King Edward VIII of England famously abdicated the throne in order to marry an American divorcée. / Parents can be charged with neglect for abdicating their responsibilities towards their children.
aberrant (adj) Abnormal, deviant The teen's aberrant behavior made his family suspect that he was using drugs. / Losing rather than gaining weight over the holidays is certainly an aberration.
abhor (verb) Detest, regard with disgust "Go out with you?" she replied. "I abhor you! I would rather stab myself with a rusty bread knife than be your girlfriend!"
abjure (verb) Give up, renounce; repudiate, recant, or shun (especially formally or under oath) To become a citizen of the United States, you must abjure loyalty to the nation of your birth. / Since enrolling in that nutrition class, she has abjured sugar and saturated fats.
abrasive (adj) Rough, suitable for grinding or polishing (such as sandpaper); causing irritation or annoyance Could the inside of this mascot costume be any more abrasive? It's rubbing my skin raw! I have some seriously abrasive remarks for whoever designed this thing.
abridge (verb) Reduce or lessen; shorten by omitting parts throughout while retaining the main idea Our romantic vacation was abridged when the babysitter called to say that the kids were sick and we should come home. / Audio books are almost always abridged, since few people want to listen to a 200-hour book.
abstain (verb) Hold back, refrain (especially from something bad or unhealthy); decline to vote The church board voted on whether to hold an abstinence rally to encourage young people not to become sexually active; while most members voted in favor, one voted against and two abstained, with one abstainer commenting that, as far as she knew, the church's teens were pretty abstemious already.
acme (noun) Summit, peak, highest point The acme of my vacation was when I finally climbed to the acme of the mountain and enjoyed the gorgeous vista.
activism (noun) The practice of pursuing political or other goals through vigorous action, often including protests and demonstrations Lindsay's parents
Download


Copyright Disclaimer:
This site does not store any files on its server. We only index and link to content provided by other sites. Please contact the content providers to delete copyright contents if any and email us, we'll remove relevant links or contents immediately.