Tastes Like Chicken by Kevin J Anderson
Author:Kevin J Anderson [Anderson, Kevin J] , Date: April 6, 2021 ,Views: 35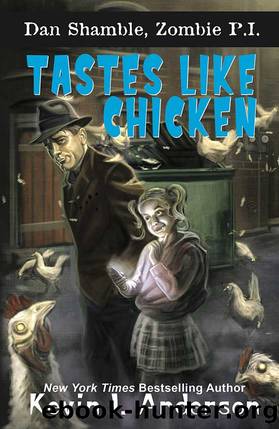 Author:Kevin J Anderson [Anderson, Kevin J]
Language: eng
Format: epub
Tags: werewolf, noir, monster, horror, Zombie, private investigator, mob, mummy, demon, vampire, humor, organized crime, ghoul, harpy, mystery, detective, thriller, undead, murder, ghost, comedy
ISBN: 9781614756330
Publisher: Word Fire Press
Published: 2017-11-17T05:00:00+00:00



Chapter Twenty-one
Since Ma Hemoglobin was on the Unnatural Quarter's Most Wanted list after the bloodmobile heist, McGoo rushed with a group of UQPD officers to stake out the Talbot & Knowles headquarters building, hoping they could nab some of the gang as they left the Board meeting.
Sheyenne and I hurried back to the Chambeaux & Deyer offices. Her phone rang just as we entered, and she swooped forward, glad to get back to normal business, although "normal" business is broadly defined, considering our cases and our clientele.
Her voice was bright and professional. "Yes, Mr. Alterro. No, Mr. Alterro. No, we haven't changed our mind. Yes, that's absolute. We have no interest in subscribing, thank you." She continued to smile, even though he couldn't see her face. "No, I don't think so. Not even at a reduced rate. Not for promotional purposes, no." Then she handed me the phone. "He wants to talk to you, Beaux."
The pushy proprietor of Spells 'N Such was the last person I wanted to talk to. "Can I fight another bloodthirsty demon instead?" I asked in a low voice. When she shook her head, I grudgingly accepted the phone. "Hello, Mr. Alterro. How can I help you today?"
"I'm calling with some exciting news." He sounded bright and cheery, undeterred despite Sheyenne's firm rejection. "I deciphered that interesting rune, and I know what it is. I'm going to include it in my spell catalog, thanks to you. I've never seen anything quite like it before." He paused, giving me time to understand what he was saying, but he didn't wait long enough. "So, ahem, do you think we can get a mention of our close teamwork in the next Dan Shamble novel? It would really help my business."
"The novels haven't helped my business much," I said. "Those are fictionalized adventures. The Wannovich sisters have a ghostwriter." I stopped myself from giving him the entire well-rehearsed rebuttal. "Now, which rune are you talking about, exactly? What kind of spell?"
"It's a delayed carnivorism spell," he said. "Very interesting. Deep demonic origin, I think."
"What's a delayed carnivorism spell? Something that makes you a vegetarian in the morning, but then you can eat meat for a late-night snack?"
Alterro clicked his tongue. "No, it's specifically used for meat transference. A magic user can whisk anyone holding this rune away from wherever they are, so they can be eaten later."
I frowned. "I still don't know which rune you're talking about, Mr. Alterro. Where did you find it?"
"You gave it to me, Mr. Shamble, on the keychain. As your token payment, remember? The design is imprinted on the plastic. You thought it was just a logo for Monster Chow Industries."
I tried to wrap my head around that. "You mean with this rune somebody can snatch a person, a monster, a vampire, or a werewolf.…"
"A meal," Alterro interjected. "The body is transferred elsewhere for the purposes of consumption and digestion. It's not just any kidnapping spell. It's very specific."
"That puts an entirely different light on the concept of 'Meals to Go,'" I said.
Download


Copyright Disclaimer:
This site does not store any files on its server. We only index and link to content provided by other sites. Please contact the content providers to delete copyright contents if any and email us, we'll remove relevant links or contents immediately.