Snake Oil: A Patrick Flint Novel by Pamela Fagan Hutchins
Author:Pamela Fagan Hutchins [Hutchins, Pamela Fagan] , Date: January 14, 2020 ,Views: 133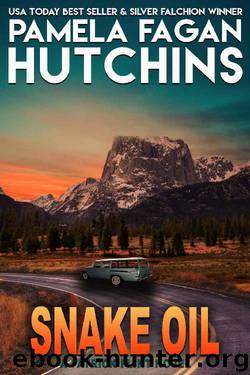 Author:Pamela Fagan Hutchins [Hutchins, Pamela Fagan]
Language: eng
Format: epub
ISBN: 9781950637911
Publisher: Skipjack Publishing
Published: 2020-01-11T16:00:00+00:00



Chapter Eighteen: Witness
Lander, Wyoming
Monday, December 20, 1976, Two p.m.
Patrick
The Dairy Land Drive-In was neither solely dairy nor solely a drive-in, but it did seem to pattern itself after Dairy Queen. Being from Texas, Patrick had come of age on Dilly Bars and Hunger Busters. Every small town in the state had a Dairy Queen, and that was a lot of small towns when you lived in a state roughly the size of France. Dairy Land served a packed house of customers under a four-sided red roof. Enlarged photographs of food from their menu hung from the walls, along with old vinyl records. The smell of cigarette smoke and frying beef and potatoes filled the air.
Constance had insisted on him claiming a table while she placed their orders, but first Patrick had tried the pay phone. It was out of order. So, he grabbed a table and watched the traffic roll by on Main Street, letting his mind wander. His previous trips to volunteer at the Fort Washakie clinic had been so normal that he'd considered bringing Susanne and the kids with him sometime for a minivacation. They could use it as a jumping off point to the wonders of the western side of the state. They'd been to Yellowstone before, but there was so much more to see. The Tetons. The Jim Bridger Mountains. The hot springs in Thermopolis. The Snake River on the Idaho border. Taking the long way home on the Beartooth Highway. After this visit, though, he wasn't so sure he wanted his family here. All of Wyoming was rugged. Don't tread on me was the state motto, after all. But he was seeing a side of the reservation that was a little more lawless and a lot more unwelcoming than he liked.
The door opened, and two men joined the line. He recognized them both. The first was long-haired Joshua Manning, he of the ranch next door to T-Ton and the chip on his shoulder toward Big Mike. The other was Elvin, whose last name he couldn't recall—the light-skinned poker player who had been so confrontational with Constance. The men were deep in conversation and didn't see him.
Constance approached with a red tray that barely contained all the food she'd ordered. She put it between them. "Thanks again for writing the check. I'll pay you back as fast as I can get a check to you."
Patrick claimed a double cheeseburger, large fries, and chocolate milkshake. "No problem." After Constance removed her food from the tray, he added it to a stack on top of a trashcan lid.
When he returned, Constance held a hand in front of her mouth, talking while she chewed. "I want to hear all about the brake line."
"The mechanic said someone cut one of them in two." Patrick popped some French fries in his mouth. They were hot, salty, and tasty. He followed them up with a few more.
She shook her head. "But where? When?"
He repeated what he'd learned from the mechanic, that with
Download


Copyright Disclaimer:
This site does not store any files on its server. We only index and link to content provided by other sites. Please contact the content providers to delete copyright contents if any and email us, we'll remove relevant links or contents immediately.