Slider by Pete Hautman
Author:Pete Hautman [Hautman, Pete] , Date: October 10, 2018 ,Views: 923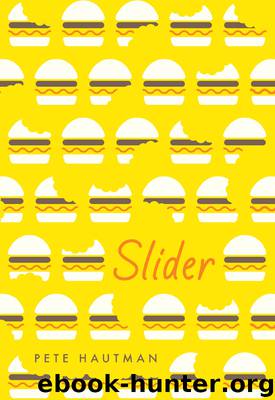 Author:Pete Hautman [Hautman, Pete]
Language: eng
Format: epub
ISBN: 9780763697655
Publisher: Candlewick Press
Published: 2017-10-09T16:00:00+00:00



The next few minutes are a blur. People are yelling and clapping, Papa Pigorino grabs my hand and Egon Belt's hand, and we both stand up. I just about lose it, but Egon Belt looks as if he's eaten nothing more than a donut and a cup of coffee. He's smiling and waving back at the crowd. Papa is yelling into his microphone. "Is a tie! Is a tie! We have-a two-a winners!"
He goes on, but I can't hear what he's saying — all I want is to get off that stage and lie down. After a few minutes that feel like hours, Papa runs out of things to say. I climb down off the podium, and HeyMan runs up to me and slaps me on the back. Seismic events occur within my digestive system. With a superhuman effort, I keep it together.
Vito is handing out free slices to the crowd. Just watching people shove pizza into their mouths is making my world spin. I stagger off toward Vaccie, toward that patch of shaded grass. HeyMan and Cyn, on either side of me, are both talking. HeyMan is telling me I'm awesome; Cyn is asking if I'm okay.
"I gotta lie down," I mumble. I sink onto the grass and stretch out. Cyn and HeyMan look down at me worriedly. I feel the BLD trying to sort itself out inside me. A few seconds later, Hoover joins us.
"I don't know how you do it, dude," he says with regretful admiration.
"Me neither," I say. I want to belch, but I think that might lead to other things.
"I thought that old dude had you smoked, but then he just stopped. You got lucky."
Egon Belt. I roll onto my side and push myself up, trying to stand without compressing my belly. Hoover grabs my hand and helps me up.
"Anyways, congrats," he says, then walks off.
HeyMan says, "Maybe you should, like, just not move for a while."
"I gotta say thanks."
"You're welcome," HeyMan says.
"I mean, to Egon Belt." I look around, trying to spot Egon Belt's John Deere cap. "Where'd he go?"
"I saw him go around back of Pigorino's," HeyMan says.
Download


Copyright Disclaimer:
This site does not store any files on its server. We only index and link to content provided by other sites. Please contact the content providers to delete copyright contents if any and email us, we'll remove relevant links or contents immediately.