Six Days in August by David King
Author:David King , Date: August 13, 2020 ,Views: 556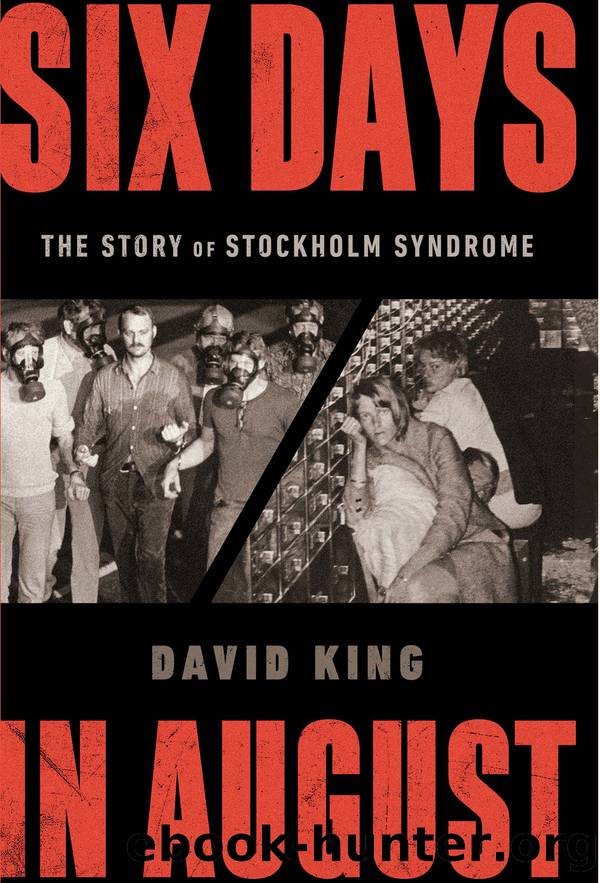 Author:David King
Language: eng
Format: epub
Publisher: W. W. Norton & Company
Published: 2020-06-22T00:00:00+00:00



BEFORE THE OPERATION RESUMED, THE POLICE NEGOTIATOR B-O Lövenlo called into the vault and adopted a more conciliatory approach. He complimented Clark for having a "cool head" and described how he had gone home last night, "dead tired" and "irritated." Now, however, he wanted to speak calmly, if Clark would do the same. B-O also had a peace offering of sorts: a dozen sandwiches, six cartons of milk, and three rolls of toilet paper. He also had the tampons, as requested.
"Yes, that was kind," Clark said.
"Listen, how is it going with her?" B-O asked.
"You can imagine for yourself." Two women were now menstruating. Clark reminded the negotiator about the request for cigarettes.
The plan was to toss down the toilet paper and tampons. After that, the police would lower the sandwiches and milk in a plastic bucket, which could then be filled halfway with water and used as a toilet.
Janne came to the line to tell the police not to throw down anything. There was too much water on the floor. What's more, he said, the lights should be turned on at once.
"Are they out now?"
They had been off for about thirteen hours, police estimated. B-O blamed it again on the drilling accidentally severing the wiring. Besides, didn't Janne have a flashlight in his bag?
"You are only messing with us!" Clark screamed in the background.
Download


Copyright Disclaimer:
This site does not store any files on its server. We only index and link to content provided by other sites. Please contact the content providers to delete copyright contents if any and email us, we'll remove relevant links or contents immediately.