Shadows: The Depiction of Cast Shadows in Western Art by E. H. Gombrich
Author:E. H. Gombrich [Gombrich, E. H.] , Date: September 16, 2020 ,Views: 20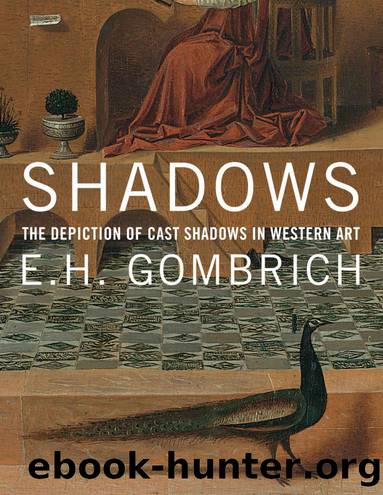 Author:E. H. Gombrich [Gombrich, E. H.]
Language: eng
Format: azw3
Publisher: Yale University Press
Published: 2014-12-15T16:00:00+00:00



Plate 29 Attributed to Campin, The Trinity, 1427–32. Grisaille.
Plate 30 Fra Angelico, The Virgin and Child, about 1450 (detail). Fresco, Florence, San Marco.
Plate 31 Michelangelo Merisi da Caravaggio, The Supper at Emmaus, 1601. Oil and tempera on canvas, 141 × 196.2 cm.
It is not the intention of this rapid survey of the history of our topic to steal the thunder of the subsequent section that must be devoted to the choice of examples in the exhibition, but we cannot here bypass the leading master whose great painting of The Supper at Emmaus (Plate 31) is a pivotal work. There is hardly a function of cast shadows that is not illustrated by Caravaggio's dramatic painting, but for that very reason it might also help to explain why so many of the artists of the Cinquecento withheld their attention from cast shadows. Clearly the shadow cast by Christ's blessing hand and arm across his body might have been felt by traditionalists to disrupt the even modelling of the figure, just as the harsh shadows on the tablecloth might have been thought to interfere with the clarity of the composition.11 Needless to say, many artists of the seventeenth century were rapidly converted to Caravaggio's idiom, and the tenebroso (dark) style conquered not only parts of Italy but also whole regions of the north where it culminated in the art of Rembrandt.
The lightening of the palette which we associate with the eighteenth century favoured a return to even illumination, but the vedutisti of Venice, such as Guardi (Plate 32), rarely followed Leonardo's advice of hiding the sun behind a veil.
Plate 32 Francesco Guardi, Venice: The Arsenal, 1755–60 (detail). Oil on canvas, 62.3 × 96.9 cm.
Download


Copyright Disclaimer:
This site does not store any files on its server. We only index and link to content provided by other sites. Please contact the content providers to delete copyright contents if any and email us, we'll remove relevant links or contents immediately.