Shadow Mate (Shadow Wolves Book 1) by Alexis Calder
Author:Alexis Calder [Calder, Alexis] , Date: November 28, 2022 ,Views: 11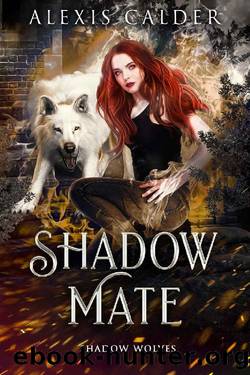 Author:Alexis Calder [Calder, Alexis]
Language: eng
Format: epub
Published: 2022-09-19T16:00:00+00:00



Chapter
Thirteen
Morgan
It took me all morning to find Zoe. Her hands and forearms were covered in dirt, and her face glistened with sweat. She looked incredibly out of place digging and harvesting in a community garden, but there she was, combat boots covered in mud, fishnet stockinged knees pressed into the dirt.
There were others gathered, too. Each working diligently on their own little square in the large fenced in garden space. Cheerful letters were painted on a wooden sign alerting passersby to what this space was. A smaller sign had a phone number with instructions to call to gain your own square for the spring. It was a strangely charming thing to find in the small town.
Zoe stood, then brushed the loose dirt off her hands and knees. "Hey, I was wondering when you'd get tired of your self-imposed isolation."
"I have a favor to ask," I blurted out.
"Okay, let's walk." She picked up a pile of carrots, then walked over to a large wooden table covered in vegetables. A sign hanging from the lip of the table said free, help yourself. Zoe added her vegetables to the table, then continued on. I followed.
"So, what's the favor? Want me to smuggle you out of town? Turn your ex into a toad? Deliver a message to your witch friend?" she suggested.
"Okay, well, delivering a message is not what I came for, but I would love that. As far as my ex, that's tempting." I actually smiled despite the knots in my stomach.
She led us to a bench that was probably out of earshot for most of the shifters in the garden. At least I had to hope it was. I sat down, keeping a space between us. I didn't know if she even had the skills to make this potion, or if she'd be willing to, but I had to try.
"So, my friend Jasmine used to make me a potion every month," I began, hoping she'd fill in the meaning of the potion.
"Oh?"
She seemed to understand, so I went on. "Is that something you could do?"
Her eyes narrowed. "Are you asking me to set you up with birth control? Or just general menstrual cramps sort of things?"
"No, neither of those." I was just going to have to say it. "It kept me from shifting."
"Why?"
"It's complicated. But mostly I didn't want to go into heat," I admitted.
"I understand, but do you know how dangerous that is?"
"Nothing ever happened. I was fine," I said.
She shook her head. "There's a reason you feel compelled to shift on the full moon. It's nature's way of ensuring that shifters shift. You need it. The same way you need oxygen."
"I haven't shifted in a long time," I admitted. "And I'm fine."
"You might be fine now, but you can't deny that long term. It's going to have serious repercussions," she said.
I'd never heard that before, though it wasn't like anyone knew I was taking the potion.
"Is this about getting me to run with the pack?" I asked.
"What? Why would I care if you ran with the pack?"
"Luke came by this morning and asked if I wanted to," I said.
Download


Copyright Disclaimer:
This site does not store any files on its server. We only index and link to content provided by other sites. Please contact the content providers to delete copyright contents if any and email us, we'll remove relevant links or contents immediately.