Secondary Characters by Rachel Schieffelbein
Author:Rachel Schieffelbein , Date: March 24, 2014 ,Views: 192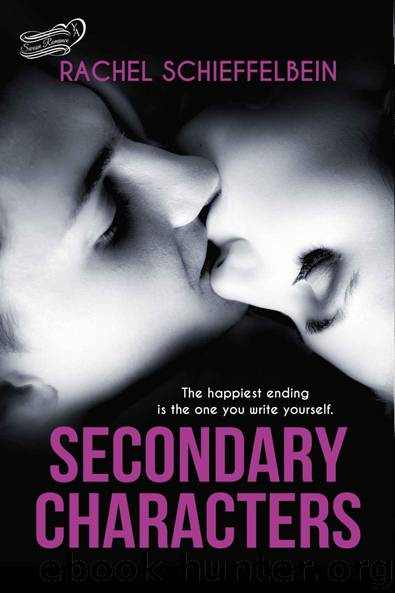 Author:Rachel Schieffelbein
Language: eng
Format: mobi, epub
Tags: young adult, (¯`'•.¸//(*_*)\\¸.•'´¯)
Publisher: Swoon Romance
Published: 2013-05-25T00:00:00+00:00



Chapter Nine
That jackass. How the hell does he do it?! I can't believe he's making out with Amber. I can hear them rustling behind me and it makes me want to throw up, because I know he's going to give me all kinds of crap about how much smoother he is than me as soon as the girls go home. Not to mention I'm incredibly jealous. He so owes me for this.
Mabel sits in the recliner next to mine, looking absolutely amazing in a pale yellow, v-neck sweater. Her dark brown hair is down, the curls falling over her shoulders, and I can't believe how much I want to run my fingers through it. My pulse races in my ears and I keep wiping the sweat off my hands onto my jeans. How does a person even go from sitting here, not talking, to, well, where Nick and Amber are?
Maybie turns and look at me a couple of times. And looks at them. I'd like to believe she's thinking what I'm thinking, but I seriously doubt it. More likely she's thinking, look at them. Our job appears to be done, can I go home now?
Trying to figure this shit out is like trying to read a riddle in a foreign language. You know there's some point, some direction there somewhere, but how are you supposed to solve the clue when you can't even decipher the first word?
There's one thing I know for sure. I cannot even attempt to make a move with those two sucking face in the background. I've got to get out of here.
***
I've spent most of the movie watching Lance. He has such an easy laugh, and his whole face lights up every time. I can't believe how attracted I am to him. It's actually painful sitting here, less than two feet from Lance, wanting to reach out and touch him, to run my hands up his arms or stroke his cheek and that adorable dimple, and knowing I can't. Or at least not without looking like a complete nut job. So I keep my twitchy hands in my lap.
But I can't stop my eyes from shifting over to him. He keeps turning and looking at Amber and Nick on the couch. He kind of looks upset, but it's hard to be sure in the dark. Is he jealous?
He sees me staring and turns to look at the make-out King and Queen behind him again. When he looks back at me, he makes a face of complete disgust, then leans closer and laughs.
"I'm going to go get some more chips, wanna come with me?" He nods toward the door.
"Definitely," I say, wrinkling my nose. I jump up and follow him out of the room. Neither Nick nor Amber asks where we're going. I have a feeling the rest of the room could get sucked into a black hole and they wouldn't so much as blink.
"I don't really need more chips," he says once we're out in the hall, pulling the door closed behind him.
Download


Copyright Disclaimer:
This site does not store any files on its server. We only index and link to content provided by other sites. Please contact the content providers to delete copyright contents if any and email us, we'll remove relevant links or contents immediately.