Land and Overland - Omnibus by Bob Shaw
Author:Bob Shaw , Date: March 24, 2014 ,Views: 224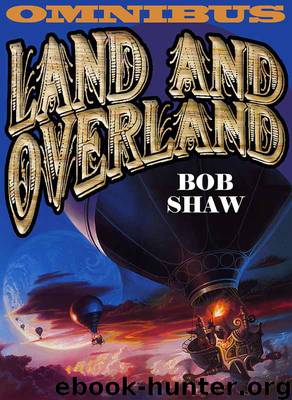 Author:Bob Shaw
Language: eng
Format: epub



Chapter 7
"Gold! You have the gall to offer me gold!" Ragg Artoonl, infuriated, slapped the leather bag away with a calloused hand. It fell to the ground and partially opened, allowing a few squares of stamped yellow metal to spill into the wet grass.
"You're just as barmy as everybody says!" Lue Klo dropped to his knees and carefully retrieved his money. "Do you want to sell your section, or do you not?"
"I want to sell it all right—but I want real money. Good old-fashioned glass, that's what I want." Artoonl rubbed the thumb of one hand against the palm of the other, mimicking the counting of traditional Kolcorronian woven glass currency notes. "Glass!"
"It all bears the King's likeness," Klo protested.
"I want to spend the stuff—not hang it on a wall." Artoonl glowered around the small group of farmers. "Who has real money?"
"I have." Narbane Ellder sidled to the fore, fumbling in his pouch. "I've got two thousand royals here."
"I'll take it! The section is yours, and may you have better luck with it than I did." Artoonl was extending his hand for the money when Bartan Drumme stepped in between the two men and pushed them apart with a force he would have been unable to exert when he first turned to farming.
"What's the matter with you, Ragg Artoonl?" he said. "You can't sell off your land for a fraction of what it's worth."
"He can do as he pleases," the thwarted Ellder cut in, brandishing his wad of coloured squares.
"And I'm surprised at you" Bartan said to him, tapping him on the chest with an accusing finger. "Taking advantage of your neighbour when his mind is disturbed. What would Jop say about that? What would he say about this meeting?" Bartan glanced a challenge around the group of men who had come together in a tree-fringed hollow which offered some protection from the weather. A heavy belt of rain was drifting across the area, and the farmers in their sack-like hoods looked sullen and oddly furtive with their hunched shoulders and dripping features.
"There's nothing wrong with my mind." Artoonl stared resentfully at Bartan for a moment, then his face darkened even further as a new thought occurred to him. "This is all your fault, anyway. It was you who brought us to this place of misery."
"I'm sorry about what happened to your sister," Bartan said. "It was a terrible thing, but you have got to think straight about it and realise it's no reason to give up all you have worked for."
"Who are you to tell me what I can and cannot do?" Artoonl's flushed face expressed the kind of mistrust and hostility Bartan had encountered on first entering the commune. "What do you know about the land anyway, Mister Bead-stringer, Mister Brooch-mender?"
"I know Lue wouldn't be offering to buy your section unless he thought it worth his while. He's taking advantage of you."
"Watch your tongue," Ellder said, stepping closer to Bartan with his stubbled jaw thrust forward. "I grow
Download


Copyright Disclaimer:
This site does not store any files on its server. We only index and link to content provided by other sites. Please contact the content providers to delete copyright contents if any and email us, we'll remove relevant links or contents immediately.