Ready For All (The Warrior Book 9) by Martha Carr & Michael Anderle
Author:Martha Carr & Michael Anderle [Carr, Martha] , Date: January 20, 2023 ,Views: 134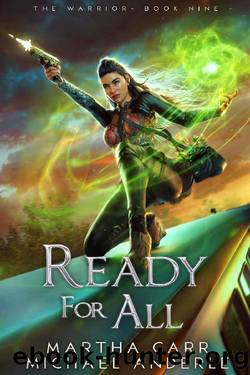 Author:Martha Carr & Michael Anderle [Carr, Martha]
Language: eng
Format: epub
Publisher: LMBPN Publishing
Published: 2022-07-24T16:00:00+00:00



Two hours later, after Chandler had volunteered to carry Charles Thwinton upstairs to one of the open beds—in case the man came to while the team was still discussing the craziness in his head that made him pass out in the first place—Bravo had finally come to a consensus about what that craziness meant.
"Okay." Briggs pointed across the room with his chopsticks before digging back into the to-go box of chow mein noodles in his lap. "Wilson—"
"Wilson!"
"Wilson… Wilson…"
The joking chant wasn't nearly as enthusiastic as it usually was, but at least Bravo's sense of humor had recovered.
The sergeant exaggerated a laugh before abruptly wiping the smile off his face and shoveling another bite of noodles into his mouth. He chewed for two seconds, then said around his food, "What do we know for sure?"
Wilson chugged half a bottle of beer in one go, belched, then crunched down on his second order of fried eggrolls. "First, this motherfucker wants power. Total control. No clue what brought it here, but it set its sights on humanity. Like, all of us. Second…"
He took another crunching bite and didn't notice half of the eggroll's flaky pastry falling down the front of his shirt. "It can bounce from human to human as easily as Grossman can bounce around inside our heads. Just with bodies. And nothing Hellion has can stop it. Three. Uh…"
He popped the last bite of eggroll into his mouth and chewed thoughtfully. "It's lazy as shit. Wants to fuck over the most humans possible with the least amount of effort. Life goals."
"Keep going, dude," Trigger muttered between noisy slurps of her sweet-and-sour soup. "You're forgetting the best part."
"Oh yeah. The only kind of human it wants to wear as a meat suit are the ones who have some kind of power. You know, besides having an actual body and shit."
Bam snorted as he broke open a fortune cookie from their massive delivery order. "Power to the fucking people."
Chandler let out a low chuckle and sat back in his chair, taking a break from the four different family-sized entrees he'd ordered. "Fuck PowerPoint presentations, man. That was a goddamn Ted Talk right there."
Wilson paused with his beer bottle halfway to his mouth and tilted his head. "Aw. You're making me blush."
They raised their drinks toward each other from across the room, and each finished off their beers.
Briggs tilted the paper to-go box over his face and shoveled the rest of the noodles into his mouth with his chopsticks. "Anybody have anything else to add?" When no one said anything, he finished clearing his box, then dropped the chopsticks inside. "Grossman?"
Their telepathic expert shrugged. "Couldn't have said it better myself. I mean, I could've, but he got all the major points."
Wilson grinned at him. "Hey, fuck you very much."
"Okay, shut up." Briggs leaned forward to grab another beer from one of the buckets filled with ice on the table, then held it absently out toward Chandler. The massive operator flicked the bottle cap with his middle finger, and it flew across the room before bouncing into the kitchen.
Download


Copyright Disclaimer:
This site does not store any files on its server. We only index and link to content provided by other sites. Please contact the content providers to delete copyright contents if any and email us, we'll remove relevant links or contents immediately.