Rare Danger by Beverly Jenkins
Author:Beverly Jenkins [Jenkins, Beverly] , Date: November 24, 2021 ,Views: 73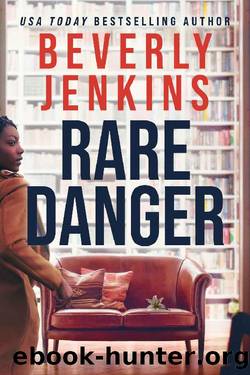 Author:Beverly Jenkins [Jenkins, Beverly]
Language: eng
Format: epub
Publisher: Montlake
Published: 2021-11-16T05:00:00+00:00



CHAPTER SIX
When they finished lunch, Jasmine walked to her car, and Torr to his. First stop, her office to grab the surveillance video.
Inside, he looked around. "Nice cozy place."
She chuckled. "If you mean small, yes. I only have one full-time employee. She's all I need for now. Everything else is handled by freelancers."
"How'd you get started?"
Keeping Terri's name out of it, she explained about the favor for a friend. "Everything sort of blossomed from there."
"Are there other services like this?"
"Now that, I don't know. I would think there are, though. Never really looked into it."
She downloaded the section of the video with Taylor on it and copied it to a thumb drive. "I'm all set. Let's go see my parents. They don't live far."
She reset the alarm and locked up, and they headed out.
Her parents lived in the tree-lined enclave known as Indian Village. The original owners of the spacious homes were the early auto magnates and the movers and shakers that put Detroit on the nation's map.
After parking, they got out and walked toward the big brick house Jas and her sisters had grown up in. Flowers blooming in a riot of colors surrounded it.
"Love the flowers," Torr said as they climbed the stone steps to the wide front porch.
"Wait until you see the ones in the back. There's no grass, which Daddy appreciates because he doesn't have to mow."
Jasmine rang the bell. Seeing her mother peek out from behind the blinds over the big picture window, she waved. Then came the sound of locks being undone. The door opened, and her mother—wearing a smile, a tee emblazoned with the letters DPD, shorts, and flip-flops—held the screen aside so they could enter.
Jas shared a hug with her, then made the introductions. "Mama, this is Torr Noble. Torr, my mom, Ellen Ware."
"Nice to meet you, Torr."
"Same here, Mrs. Ware."
Jasmine saw the questions her mom's eyes held as she sized up Torr, but Jas set them aside. "Is Daddy here?"
"Yes, he's watching the Tigers lose. Again."
"Torr and I need to speak with you two about something kind of serious."
Her mother's silent curiosity rose. "Okay, come on."
She led the way to the den-like room Jas's dad used as his Dad Cave, and Jas's memories of growing up in the big house surfaced as always: playing hide-and-seek with her sisters, doing puzzles together in the wintertime, holiday celebrations, street showers out front in the summer. She trailed her hand lightly over the wealth of healthy houseplants her mother also loved.
"Rick?" her mom said. "Jas is here. Says she has something she needs to talk to us about."
He looked up from the game. Rick Ware was a big man, NFL lineman big. His graying hair highlighted his sixty-plus years, but he was still healthy and strong enough to make bad guys shake in their Jordans. He checked out Torr for a long moment, then picked up the remote to mute the sound on the flat-screen TV. He stood, his frame filling the room, and held out his hand to Torr.
Download


Copyright Disclaimer:
This site does not store any files on its server. We only index and link to content provided by other sites. Please contact the content providers to delete copyright contents if any and email us, we'll remove relevant links or contents immediately.