Radical Love: Learning to Accept Yourself and Others by Zachary Levi
Author:Zachary Levi , Date: September 23, 2022 ,Views: 73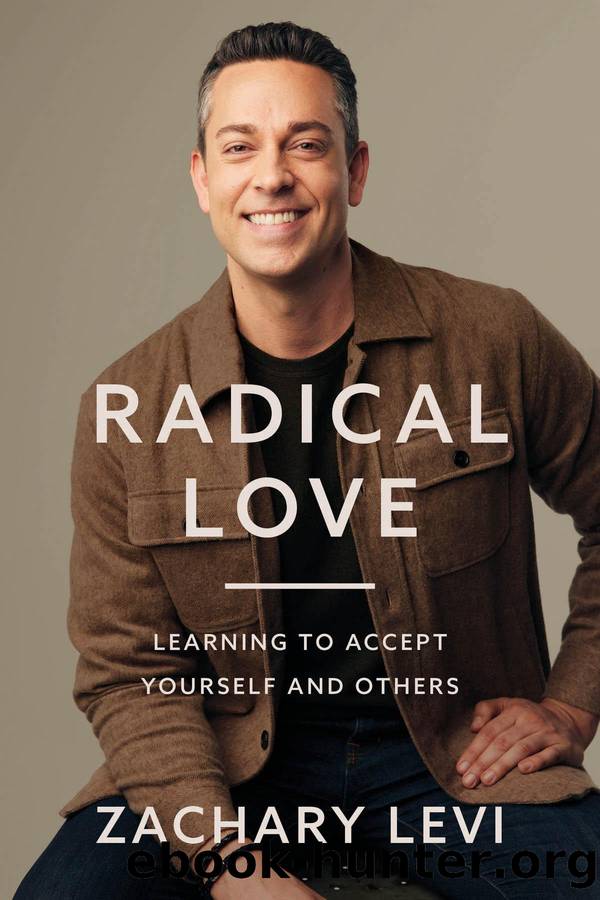 Author:Zachary Levi
Language: eng
Format: mobi, epub, azw3
Tags: Autobiography, Mental Health, Non-Fiction, Self Help, Health, Memoir, Personal Development
ISBN: 9780785236764
Publisher: HarperCollinsChristianPublishing
Published: 2022-04-13T00:00:00+00:00



* * *
Sit in the empty. Search your heart for what led you there, and trust that you are stronger than it.
* * *
The marriage itself lasted less than a year. We lived in Toronto for a while and then moved back to LA. Every time we were in public we put up the façade that we were "great" and everything was "great," and isn't life "great"? Then we'd be alone and we'd be fighting and miserable. I didn't know what reality was anymore. We tried couples' therapy. Even agreeing to try it seemed like a huge leap forward, but it was too little too late.
In early December we decided to separate. We spent all of Christmas and New Year's wrestling with whether or not we could still make things work, but it was pretty clear the end was inevitable. After the holidays, I flew off to Toronto, of all places, to film a new show, and I'd barely been there a day when I got an email from her saying that she was filing for divorce. I wrote her back in tears, saying, "I'm sorry, I'm sorry, I'm sorry. I love you, and I hope you find somebody who loves you as much as I do, because I really, really do." And I did. And I do. I still love her as a person and want nothing but the best for her and her family. But loving her was never my problem. The problem was I didn't love myself, and so I put myself in a position where I had hurried into a relationship that wasn't healthy for either of us. If I had loved myself more, I could have loved her from afar as her friend. Unfortunately, I didn't know any better at the time.
I hated myself for putting myself in that type of relationship. I already struggled with loving myself. Some days I even struggled with liking myself. I judged myself harshly all the time. My self-talk was horrible. As someone who took great pride in looking at all the variables and preparing himself ahead of time and not falling into traps and not being duped, I had done this all to myself.
I had to shoot thirteen episodes of this show up in Toronto and that kept me there for about seven months. Now, I was stuck in this city that I only knew because of her. The only restaurants I knew were the ones that we went to. Everywhere I looked, there she was. It was the dead of winter, and all I could do was stumble through the week, crippled by the shame of having failed and my fear of the judgment I felt coming from everyone as word spread of the divorce. Because I thought, again, that I had screwed it up. I had the perfect girlfriend, and then I lost her. Then I had the perfect wife, and now she was gone. I was too much, and at the same time I wasn't enough.
Download


Copyright Disclaimer:
This site does not store any files on its server. We only index and link to content provided by other sites. Please contact the content providers to delete copyright contents if any and email us, we'll remove relevant links or contents immediately.