Pearl of Magic: A Little Mermaid Romance (Fairy Tale Royals Book 3) by Emily Deady
Author:Emily Deady [Deady, Emily] , Date: November 28, 2022 ,Views: 16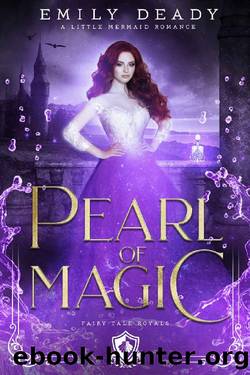 Author:Emily Deady [Deady, Emily]
Language: eng
Format: epub
ISBN: 9781734986532
Publisher: Fairy Tale Royals Book Three
Published: 2020-12-15T16:00:00+00:00



Chapter 23
Erich wanted to spur his horse into a swift trot. His arms felt free and he wanted to stretch them out and embrace the world. It felt so good not to be wearing the stifling gray uniform.
Azel was safely in his charge. He had no reason to be afraid of her. She couldn't do anything until a magic-wielder removed her muting necklace. He didn't have any responsibility toward her other than to see her safely into the hands of the Council in Chendas.
Surprisingly, she was absolutely right when she accused him of fearing her. He had been afraid of her and that fear was driving his decisions. But not anymore.
He had hated himself over the last few weeks. No one was here to judge him or tell him what to wear or how to act.
A part of him had always admired Ian and he'd always been jealous at how easily his older brother commanded respect. But Erich also spent every day thankful he was the youngest son and not the oldest. He never wanted to be as boring and responsible as Ian.
For now, with no one watching, he was going to just be Erich. He didn't care what Azel thought of him.
It was a beautiful greenreign day and he was done being miserable.
Even his horse pranced below him as if sensing his good mood.
Erich watched the scenery as it changed around him, marveling at how much more beautiful each tree was when he appreciated it properly.
By the time he had gazed at three trees, they were starting to look the same. So, he turned his eyes elsewhere.
On the far horizon, a range of craggy peaks met the skyline. The mountains that separated Iseldis from Chendas were tall and imposing, like a protective wall between the two kingdoms.
It was unfortunate that they weren't on the coastline, protecting Iseldis from the fickle ocean.
Despite their edge, the mountains also had an air of majestic beauty. Erich had always loved looking at them from the window of his castle bedroom.
They were amazingly beautiful mountains. But no matter how far they traveled, the mountains looked the same in the distance.
Erich brought his eyes back to the road around him.
Being happy by himself was not fun at all.
"Azel!" he said, urging his horse forward to ride next to her. "Which do you think are more beautiful, the mountains or the sea?"
She looked over at him for a moment, likely gauging whether he had lost his mind. After a while, she gestured behind them, mouthing the word "Sea."
"The sea? I think I prefer the mountains, but then I grew up closer to them."
She nodded in understanding.
"Did you grow up by the sea? Oh, of course, you did." He looked away from her as he remembered her connection to the ocean.
But they weren't by the sea. They were in the middle of dry land and he wasn't going to live in fear.
"Have you ever been in the mountains?"
She pursed her lips, then raised a single finger. She almost looked like she was enjoying herself.
Download


Copyright Disclaimer:
This site does not store any files on its server. We only index and link to content provided by other sites. Please contact the content providers to delete copyright contents if any and email us, we'll remove relevant links or contents immediately.