Paths of Dissent by Andrew Bacevich
Author:Andrew Bacevich , Date: August 3, 2022 ,Views: 10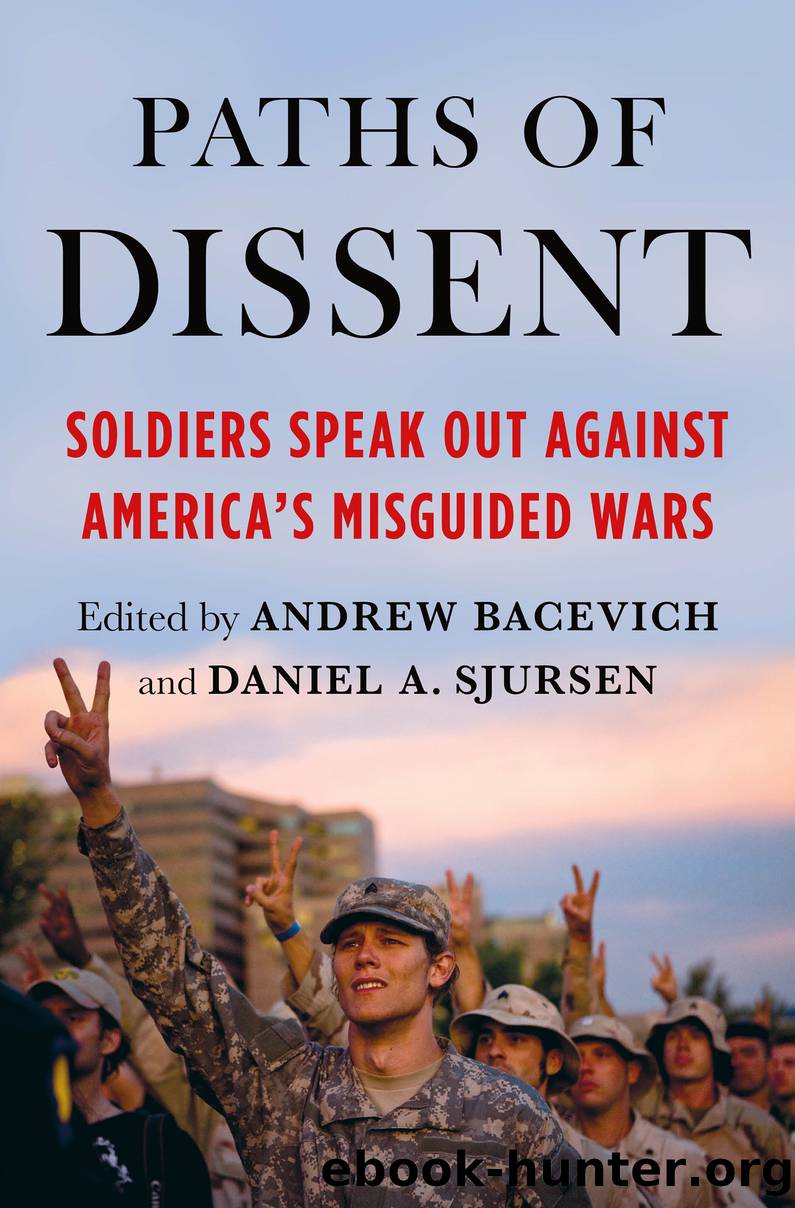 Author:Andrew Bacevich
Language: eng
Format: epub
Publisher: Henry Holt and Co.



CANDOR AND INTOLERANCE
Paul Yingling
In 2007, I was moved to write an article in the Armed Forces Journal titled "A Failure in Generalship." Detailing the grave and deteriorating situation in Iraq, I argued that the debacle was attributable not to individual failures but to a crisis in the entire institution of America's general officer corps. The piece sparked a fierce debate within the armed forces, catapulted me from obscurity into the national media spotlight, and ultimately ended my military career. I became a dissenter, having declared war on an institution that I'd loved and loyally served for more than twenty years. It was not a role I had imagined for myself.
I joined the Army at the age of seventeen because I had few other options: I was a bad kid in a bad place. I wasted my adolescence drinking, smoking pot, and fighting. Growing up in Pittsburgh as the steel industry was dying, I needed a way out. In 1984, Pittsburgh put more recruits in boots than any other comparably sized city in the country, and I was one of them. I enlisted to straighten myself out, and it worked. Being a soldier taught me self-discipline and self-respect, which was just what I needed. I enrolled in Duquesne University and graduated at the top of my academic class. I won an ROTC scholarship and was commissioned at the top of my ROTC class. I married my high school sweetheart, convincing her that I was not the aimless thug I had once been. I was a college graduate, an Army officer, and a married man, well on my way to a middle-class living and middle-class respectability. I could not imagine wanting anything more for myself.
I trained as a field artillery officer, and in early 1990 reported to the 1st Infantry Division at Fort Riley, Kansas. In one of my first field exercises, I was assigned as an evaluator for a fire support team as part of a large exercise involving infantry, tanks, artillery, engineers, and other supporting forces. Greg Fontenot, then lieutenant colonel and senior evaluator for the exercise, would gather the other evaluators together each night and lay out what would happen in the next day's battle: the plans of enemy and friendly forces, the decisions the commanders would make, the terrain and weather considerations that would influence those decisions, and the possible outcomes of the battle. He told all of us where to be and what to look for. At first, I was skeptical: How could he possibly know what would happen the next day at such a level of detail? After the first battle, though, I became a true believer. Fontenot was a master of battle command; he saw the battle unfold in his mind before it was fought.
Less than a year later, we were in an assault position in northern Saudi Arabia, preparing to attack Iraqi forces occupying Kuwait. My job was to give fire commands to eight cannon that supported the attack of the 1st Brigade, 1st Infantry Division.
Download


Copyright Disclaimer:
This site does not store any files on its server. We only index and link to content provided by other sites. Please contact the content providers to delete copyright contents if any and email us, we'll remove relevant links or contents immediately.