Old Rage by Sheila Hancock
Author:Sheila Hancock [Hancock, Sheila] , Date: September 19, 2022 ,Views: 97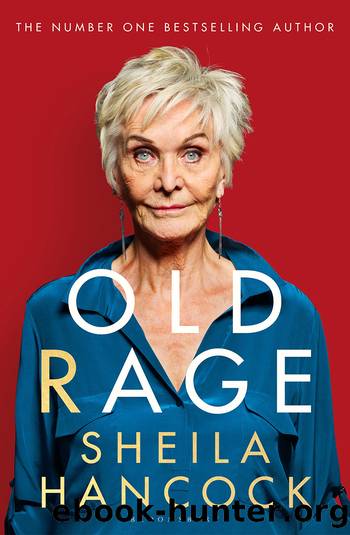 Author:Sheila Hancock [Hancock, Sheila]
Language: eng
Format: epub
Tags: Biography & Autobiography, Personal Memoirs, Entertainment & Performing Arts, Women
ISBN: 9781526647429
Google: ToVwEAAAQBAJ
Publisher: Bloomsbury
Published: 2022-06-09T21:14:45+00:00



Should I not look around and try to realise what an extraordinary planet I live on? (And how we are destroying it.) Remember my faith in my fellow man. (Farage, Trump, Ann Widdecombe.) Feel grateful for my life so far?
Should I not to delight pay the utmost blessing?
Okay. Yes. The last two. I will resist the urge to snarl, 'Sentimental bullshit.' I will drop the 'rage rage', and I'll try gratitude and delight. That is what I will do.
I'll try. I'll really try.
August 2019
My new passport has arrived. The royal blue that Farage insisted on actually looks a nasty black. I deliberately scowled when I sat for my new photo and look suitably old and tragic. I will use my European one until the last possible moment.
Stop it – I must dig around for a bit of 'delight'.
Life for everyone demands constant, sometimes unexpected, change and adaptation. Those who desperately try to avoid anything that will jeopardise their security are doomed to fail. Illness strikes, villages expand, jobs are lost, people die or leave, politics change, people called Dominic dominate.
Friends and journalists sometimes comment on how I have managed to reinvent myself since John's death. They said the same thing after Alec died in 1971. It is true that since 2002 I have done several theatre shows and films and larked about in Just a Minute and Celebrity Gogglebox, but they do not know how my heart lurches when I see an old couple walking down the street hand-in-hand as we used to. I do not allow myself to dwell on how it would have been to share my old age with the man I loved. I manage. No, more than that. I have freedom. I can live a totally selfish life, eat when I like, or not at all if I can't be bothered, go where I like, when I like, without having to fit in with someone else's life. I have always put husbands and children first. Now I don't have to. So, there are bonuses. Or should that be 'boni'?
Contentment is not a goal I seek. It seems a bit 'I'm all right, Jack' and to hell with anyone else. A tad dull too. It has pleased me that, whenever I do question-and-answer sessions after a showing of Edie, many people tell me that they realise they are in a rut and after watching the woman in the film, who has merely existed for most of her life, suddenly undertaking a huge challenge, they are resolved to do something similar.
When John died I was in agony. Eventually I realised I had two choices. I could spend the rest of my life with my memories, filling his absence with imagining what he would have said or done in any situation that arises. A valid choice that many – especially old people – make. Or I could make up for the fact that all the splendours of living had been taken from 'one who loved them in other days' and ensure I did not waste the life I was privileged to still have.
Download


Copyright Disclaimer:
This site does not store any files on its server. We only index and link to content provided by other sites. Please contact the content providers to delete copyright contents if any and email us, we'll remove relevant links or contents immediately.