Murder at the Pet Boutique: Wagging Tail Cozy Mystery Series by Bell Cindy
Author:Bell, Cindy , Date: November 28, 2022 ,Views: 17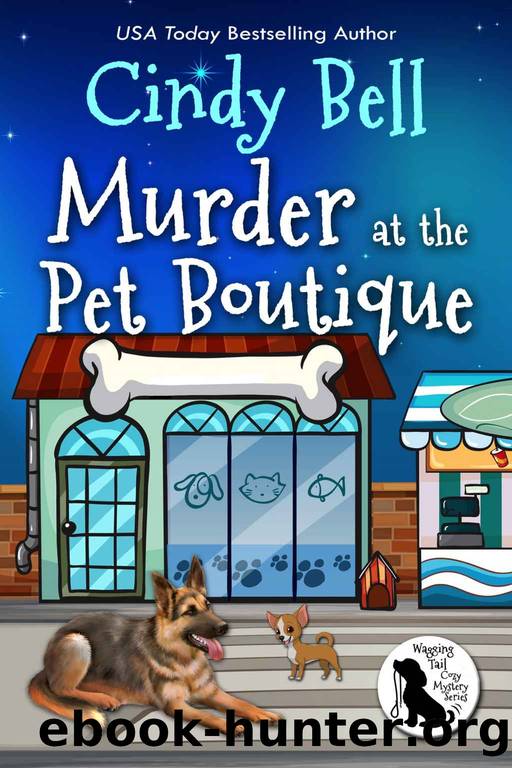 Author:Bell, Cindy
Language: eng
Format: epub
Published: 2018-10-16T00:00:00+00:00



Chapter 9
As Nikki walked back to her car, her cell phone began to ring. She paused beside her car and pulled her phone out. When she saw Quinn's name on the screen, she answered.
"Hi, Quinn." She pulled open the car door and slid inside. A quick glance back at the house revealed a figure in the front window. Was Heather watching her?
"Hey Nikki, thanks for the information you sent. We're looking into finding John, but it may take us some time, he's the slippery sort."
"That's fine." She stared at the car in Heather's driveway, and all of a sudden she remembered why it was familiar. "Quinn, did you have any luck enhancing the license plate on that car?"
"No, I guess the video quality is far too low to do anything with it. Why do you ask?" Keys tapped in the background.
"I'm at Heather's place right now." She put the phone on hands-free, slid her key into the ignition and turned the car on. The figure in the window disappeared. "I noticed a similar car in her driveway. I don't know if it's the same one, but she says it belongs to her boyfriend, who is out of town."
"It could just be a coincidence, but I can certainly look into it. Your theory is that the boyfriend was the one chasing Bryan? Why would he do that?" Quinn paused. "Wait, don't answer that, first, what are you doing at Heather's?"
"I needed a gift for Princess, and she has a side business. She makes clothing and accessories for pets. She also told me that she tried to show Bryan some of her products before and he wasn't interested. That might be more motive for her to have attacked him." Nikki sighed as she shifted the car into gear. "Quinn, I have no idea if she could have done this. But I think there is potential motive, she clearly had some animosity towards Bryan."
"Yes, she did. I'll dig into the boyfriend and see what I can find. Did she say where he is?"
"No, she didn't." Nikki eased the car onto the road. "I'd better go, I'm driving, and I'm late to take the dogs for their afternoon walk."
"Okay, but Nikki please let me know if you're going to hang out with any more murder suspects, okay?" There was a hint of humor in his voice, but also a touch of frustration.
"I'll do my best." She smiled, then hung up the phone. Just hearing his voice had a way of boosting her mood. Or maybe she simply felt better that she'd finally bought Princess her present.
As Nikki drove, exhaustion began to set in. She hadn't gotten any sleep the night before, and now all she wanted was to curl up in bed. With several dogs waiting for her, she knew that wasn't an option. She decided to stop at the café instead for a cup of coffee to go. The parking lot was pretty full when she pulled in. Inside the café, most of the tables were occupied.
Download


Copyright Disclaimer:
This site does not store any files on its server. We only index and link to content provided by other sites. Please contact the content providers to delete copyright contents if any and email us, we'll remove relevant links or contents immediately.