Motorcycle High by Dave Harrold
Author:Dave Harrold , Date: October 29, 2022 ,Views: 59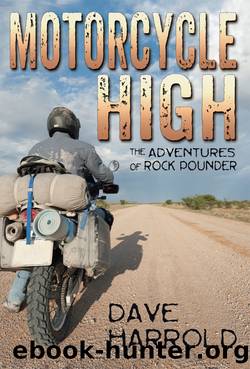 Author:Dave Harrold
Language: eng
Format: epub
Tags: Motorcycle High: The Adventures of Rock Pounder
ISBN: 9780974055152
Publisher: Viveca Smith Publishing
Published: 2012-07-15T16:00:00+00:00



THE MOTORCYCLE WAS CLEAN; my clothes were clean; I was clean. Estonia was fifty miles away, and I had no idea what to expect. The road was great at 70 mph with no traffic. It gave you a chance to think about things you normally didn't have time for—like mom and dad and my brother Ron, who ran the family fertilizer and farm equipment business. I could have been a very rich man, and a very bored and unhappy man. Right now I was just a guy trying to get the hell out of Russia.
I'd had clear skies for a few days now, but if it started raining again the fertilizer business would start to look good. Tell you what, my second wife Tiffany looked good all the time. I wonder if she ever got her tummy tuck and boob job done that she wanted me to pay for. She thought I was made out of money, and maybe I was. My mother is Clara Elizabeth Weston, heir to the Weston railroad fortune. My father is W. Harris Pounder, the fertilizer and farm equipment magnate. He started out as a small farmer in Iowa. He was just called Waylon Pounder back then.
Whoa! The roads were slick here, and I needed to slow down. It must have rained pretty hard earlier today. And a big truck in front of me was splashing mud. So much for being clean. Anyway, my dad started selling fertilizer, and he met my mother on a sales trip to California. Her parents disapproved because he was a fertilizer salesman, but he wouldn't give up. He eventually married my mother and expanded his business to include the manufacturing of farm equipment. Yes, he is the founder of Pounder Tractors and Farm Equipment as well as Harris Fertilizers. Most people have seen the commercials.
I guess I am wealthy, but I've also made my own fortune. Once my dad was successful, he went by W. Harris Pounder, instead of Waylon. I guess Waylon sounded too much like a farm boy. My parents named me Roderick Weston Pounder, but when I was 5, I told my mother I wanted to be called Rock. I've been Rock ever since. I was expected to stay in the family business, but I'd never been able to stay anywhere for long. My brother Ron did well taking it over. I made my own way.
When I get home, I'll go by and tell my parents about the trip. Well, about lots of it, anyway—maybe not all of it. We usually had lunch once or twice a week or maybe coffee in the afternoon. If Crissy was home, I'd take her along with me.
I saw the sign for the Estonian border, and my mind came back to the present.
The border was only 2 miles ahead. Oh, no—the line to check out of Russia was a mile long! So I rolled up and asked some guy in line how long he had been there. One hour. I rolled past all the cars and trucks to the front of the line.
Download


Copyright Disclaimer:
This site does not store any files on its server. We only index and link to content provided by other sites. Please contact the content providers to delete copyright contents if any and email us, we'll remove relevant links or contents immediately.