Mad Amos Malone: The Complete Stories by Alan Dean Foster
Author:Alan Dean Foster [Foster, Alan Dean] , Date: November 20, 2023 ,Views: 98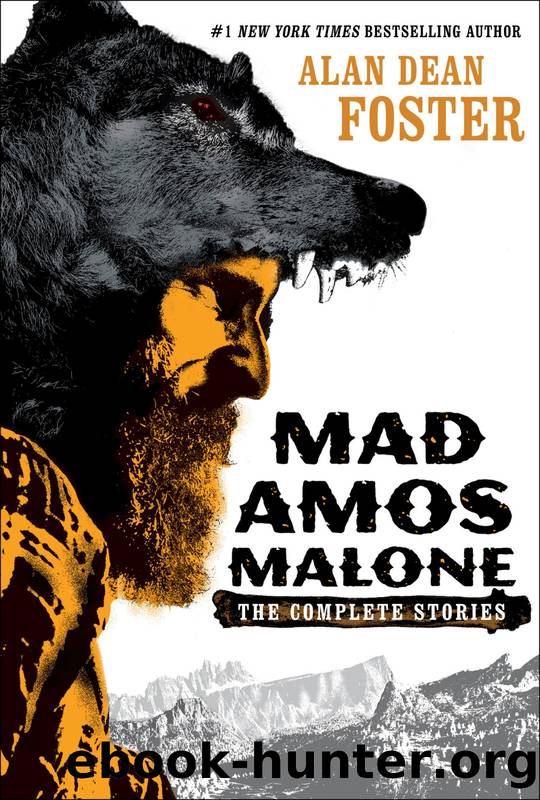 Author:Alan Dean Foster [Foster, Alan Dean]
Language: eng
Format: epub
ISBN: 9780525620822
Publisher: Del Rey
Published: 2018-07-17T00:00:00+00:00



* * *
—
"I'll be hornswoggled and hog-tied." Caiben turned and yelled back toward the cabin. "Amos, Jim! Git out here and have a look at this!" Clutching the water bucket and heedless of the cold, he splashed through the stream back toward the cabin.
Amos Malone and Jim Bridger emerged, Malone with skillet in hand. It was his turn to do the cooking. Bridger specialized in rabbit, while Caiben wasn't good with anything more than beans. They didn't much understand what Malone was talking about when he served them medallions of elk béarnaise au poivre or trout almondine with new potatoes and asparagus hollandaise or even how he came by the fixin's. Smart men that they were, they didn't push the question too hard.
Ignoring the icy water dripping from his deerskin leggings, Caiben joined his trapping companions as they watched the six horses, with Malone's in the lead, wander solemnly back into the crude corral from which three of them had been abducted. Once within, they dispersed amiably and began to nibble at the greening grass.
No small man himself, Caiben got a crick in his neck looking up at Malone. "Well, you were right, Amos. Danged if you weren't right. They come back."
"Wonder what happened to the thieves," Bridger murmured.
"Reckon they had enough." Malone started toward the corral. His companions followed.
"What's that thing on your animal's head?" Caiben asked. "Looks like he got somethin' stuck in it."
"Just a growth," Malone murmured. " 'Tain't hurtful. I'll take care of it."
They entered the corral. Each man saw to his own mount and then collectively to the three they'd apparently acquired. Malone patted the stallion on the neck. It snorted as if bored by the attention.
"Well, Worthless, they give you a hard time? Other way round, I reckon. Some folks are just dumber'n dirt, thinkin' they could horsenap a unicorn."
"A what?" Bridger had come up behind him and overheard. "I know what that is. A mythical creature. Somethin' out of stories, that don't exist." The two mountain men regarded each other silently for a long moment. Then Bridger broke out into a wide smile. "Kind o' like you, Malone."
Malone smiled, too. Have to replace that restrainin' patch quick, he mused. "I reckon so, Jim. Tell me: you ever had crawfish étouffée on saffron rice?"
"Huh-uh. Sounds like Frenchie food."
"Sort of. With lemon chiffon cake for dessert."
Bridger eyed him sideways. "Now, where you gonna git lemons up here, Amos? In late winter, no less."
"Leave that to me, Jim." Malone gestured with a nod. "Better get cleaned up. Looks to me like you might've had an accident."
Bridger glanced around and down at his stained backside, thoroughly baffled. "Now, when'd I do that? I don't recall…"
Malone put an arm around the other man's shoulders. "Let's eat, Jim. Caiben, you ready for dinner?"
"Ain't I always?" The third trapper joined his companions as they sloughed back toward the cabin.
Behind them Worthless shifted his phenomenally flexible anatomy and turned to thoughtfully eye the nearest mare.
Espying his intention, she gave a startled snort and bolted twelve feet.
Download


Copyright Disclaimer:
This site does not store any files on its server. We only index and link to content provided by other sites. Please contact the content providers to delete copyright contents if any and email us, we'll remove relevant links or contents immediately.