Kzine Issue 4 by unknow
Author:unknow , Date: June 12, 2019 ,Views: 76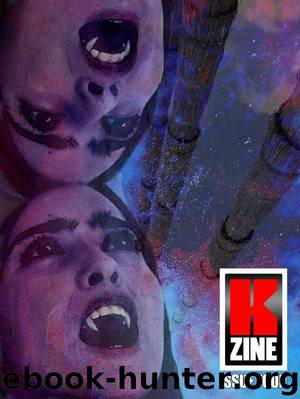 Author:unknow
Language: eng
Format: epub
Tags: Crime, Horror, Fiction, Fantasy, sf, stories, short
Goodreads: 21009221
Publisher: Kimota Publications
Published: 2012-09-21T23:00:00+00:00



WEIGHT
by Elizabeth Hersh
It started on June 3rd. I remember the date because I had just signed for the house. My boyfriend took me to see The Bodies Exhibit. One of those touring exhibitions that announces itself with pictures of corpses on billboards. Paints our fears right out in front of us, glues them to signs 30 feet tall and 12 feet wide to help wake us up on our morning commutes. Come look death in the face.
It sounded fun, but it wasn't. The bodies are no longer human. They are propped up and plasticized. Everything organic replaced. They are maraschino cherries. All the flavor and color sucked out, replaced with chemicals. June 3rd: the day I bought my first house in a shameless act of adulthood and the day I first saw what a penis looked like without skin. Sad, limp yet hard and brittle like all the other plasticized organs.
All except the bones.
You don't have to inject bones with plastics to make them strong. You don't have to process them. They just are. The stone of our bodies. The foundations on which all else rests. Bone can't surprise you, at least I thought not, until I saw scapula. Without the muscle holding them tight to the ribs and spine they float unattached. So delicate that you can see light shine through them.
'Wings.' My boyfriend said. Our wings. What was left of them. Not even deep under our skin. But useless and forgotten. So thin they are almost transparent. As if they might be fading out of existence even as we murmur incessantly to remind ourselves we are living in this room full of preserved death.
'When you dream about flying, do you flap your scapula?'
That night I dream. Delicate wings struggle under skin. Breaking free and attempting flight. They don't have much lift; it's more a matter of will power. Three nights later the shoulder blades started appearing.
'I had a strange dream last night. I was in my bedroom kind of, well, kind of exactly my bedroom down to every detail, and this thing was crawling on the floor towards my bed.'
My boyfriend looks up from his computer. 'Creepy.'
'Yeah.'
'You want to sleep at my place tonight?'
'It was just a dream.'
There is a certain kind of light, at night, in the suburbs. It's a strange orange color and with it comes a soft buzzing sound. A hum and click. The sound of night.
It. Just an outline. Shoulder blades, as if someone is slowly crawling towards my bed. As if someone is purposefully moving in the almost-dark on hands and knees so softly and slowly that the sound of impact on the carpet is drowned out by the soft rhythms of the house. The refrigerator, the washer, the heater.
I try to shut my eyes. I cannot blink. I fear that if I even glace away I will lose track of its progresses towards me. That somehow my vision is keeping it true to natural rules. My sight keeps it fixed.
And then the street light goes out.
Download


Copyright Disclaimer:
This site does not store any files on its server. We only index and link to content provided by other sites. Please contact the content providers to delete copyright contents if any and email us, we'll remove relevant links or contents immediately.