John Wayne Gacy by Judge Sam Amirante
Author:Judge Sam Amirante , Date: October 13, 2017 ,Views: 767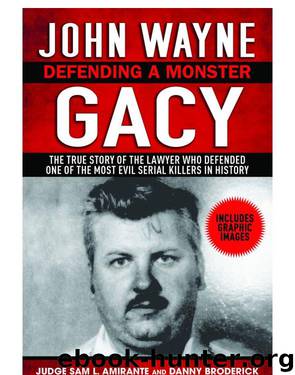 Author:Judge Sam Amirante
Language: eng
Format: epub
Publisher: Skyhorse Publishing, Inc.
Published: 2013-01-05T05:00:00+00:00



21
WE HAD TO go out to Cermak Hospital to visit Mr. Gacy. Motta had no idea what to expect. He had been up most of the night before agonizing over this first meeting with his new client. It is only natural to wonder a bit about what the country's worst, most prolific serial killer might be like.
Parking your car and strolling into the Cook County Jail is an experience that you will never forget. You travel through several levels of chain-link fence, topped with gleaming rolls of razor-sharp barbed wire, enough barbed wire to slice a fly in half if that fly is foolhardy enough to attempt a buzz through it. The pea gravel crunches under your feet as you approach the first of many gray cast-iron doors that clank behind you, much as you might expect they would if you have ever watched a prison movie. Only a jail door sounds like a jail door. The clank sounds quite final, quite irreversible. The doors are guarded by uniformed men or women that block out the sun with their size. When they ask for your ID, it is not a request, it's a command. They smile sometimes, but you know from their tone that not one thing that they say is in any way negotiable.
Motta and Gacy hit it off just fine, or as fine as anyone gets along with that unusual little man. Gacy smiles and shakes your hand, but that doesn't mean he won't talk shit about you behind your back. That depends on what suits him at the time. What surprised Bob was the level of cream puffery that he met. Gacy strikes you upon first meeting him more as the old Polish plumber who, like an old Saturday Night Live skit, exposes his butt crack every time he bends over to fix the toilet. He is not an immediately intimidating person by any stretch of the imagination. Instead, you are more likely to laugh. He is more of a wimp with a thick Chicago accent, who obviously spent a great deal of time caring for his mother. This is the monster that everybody has been talking and writing in the papers about? Bob was thinking. What Gacy did more than anything else during their first meeting was whine and bitch like a little old lady in a bad restaurant. He had complaints about nearly everything. Bob and I just looked at each other, incredulous, as if to say, "Yeah, John, it's jail." We refrained from stating the obvious. After some time, our actual mission was finally accomplished in that Gacy approved Bob Motta as my cocounsel.
One problem that loomed ominously in the distant future was a simple concern about how we were going to get paid. Money was not our first concern; but we had to pay the rent, we had to eat, and we had to feed our families. Gacy had paid me a retainer when he had an ongoing business. Now he had jobs lined up that he would never finish.
Download


Copyright Disclaimer:
This site does not store any files on its server. We only index and link to content provided by other sites. Please contact the content providers to delete copyright contents if any and email us, we'll remove relevant links or contents immediately.