Ironroot by S.J.A. Turney
Author:S.J.A. Turney [Turney, S.J.A.] , Date: March 15, 2017 ,Views: 376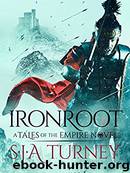 Author:S.J.A. Turney [Turney, S.J.A.]
Language: eng
Format: epub
Publisher: YouWriteOn
Published: 2010-07-21T23:00:00+00:00



Petrus hauled on his reins and pulled alongside his young companion. Salonius turned once more to face forward. Were they not riding hard to stay ahead of potential enemies from the Saravis Fork fort and headed to Vengen to denounce a traitor in the army, he could have enjoyed this ride. The day was turning out bright and warm, accompanied by the constant hum of bees and chattering of birds and the smell of fragrant wildflowers. The valley was widening all the time as they descended toward the northern plains. Varro and Catilina had peeled off a short while ago and were riding together on the other side of the valley, deep in conversation, leaving the scarred veteran and the young soldier to ride together. At this proximity, Salonius became once more aware of the faint aroma of stale beer that clung to Petrus.
"Try getting screwed and left for dead by them," the scarred man said flatly. "I think you'll change your tune."
"Huh!"
Salonius knew he was being unfair to his new companion. Petrus had every right and every reason in the world to mistrust and hate. The man had lived in hell for a decade because of these traitors. He had been a senior sergeant in the army and was cousin to Varro; a man with a position of power and responsibility. And yet there was something about him that Salonius couldn't quite put his finger on but didn't like; something that made him uneasy. Oh, Petrus wasn't a part of Cristus' conspiracy, for certain; nothing like that. But he was too quick to act with violence, perhaps? A risk? A loose blade that could damage anyone around him? He became aware that Petrus was watching him with that one piercing eye and turned to meet that gaze.
"I know you've been betrayed and hurt by your own. I understand that you must feel hollow and vengeful and I can see why you'd turn to your cousin for help. But I also know that people who are driven by revenge and blood can be dangerous to be around. Varro will tell you a bit about that when we stop, I'm sure, but just remember that when you throw a stone, you cause ripples. And if the ripples are big enough they sink ships."
Petrus continued to stare at him, but the look about his eye had changed; softened somehow. Salonius gave him a sad and weary smile.
"Be careful you don't sink your friends."
Download


Copyright Disclaimer:
This site does not store any files on its server. We only index and link to content provided by other sites. Please contact the content providers to delete copyright contents if any and email us, we'll remove relevant links or contents immediately.