Instruments in the Redeemer's Hands by Paul David Tripp
Author:Paul David Tripp , Date: January 12, 2018 ,Views: 857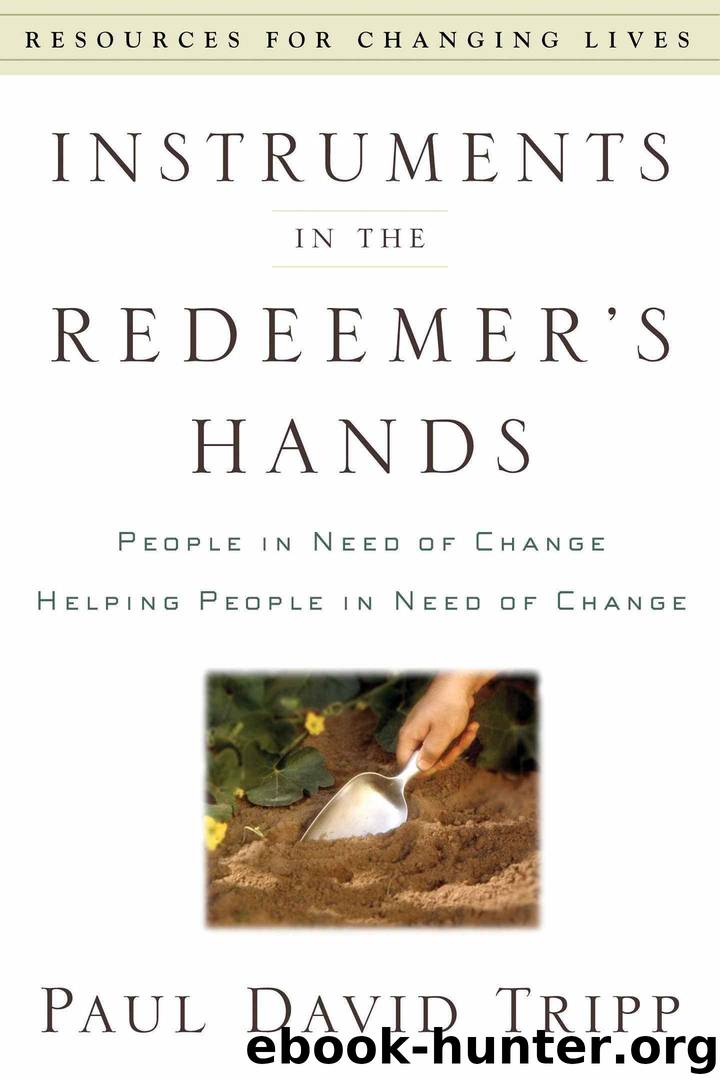 Author:Paul David Tripp
Language: eng
Format: mobi, epub, azw3
Tags: Nightmare
ISBN: 9781629951454
Publisher: P&R Publishing
Published: 2002-10-22T04:00:00+00:00



Love
‣ Know
Speak
Do
10
Discovering Where Change is Needed
Mike and Marsha had asked if we could talk because "things were such a mess." They both seemed frazzled, so we got together as soon as we could. I brought along someone I was discipling for personal ministry. When I asked what was going on, Mike began to tell the most confusing family story I had ever heard. They had both been married before and had blended two families, each with four older children. Marsha occasionally jumped in with details that only added to my confusion. I don't think I took as many notes in my theology classes at seminary as I did that afternoon! Their story was full of plots and sub-plots. Their attempts to solve problems invariably made them worse. It seemed that their children had made all the wrong decisions as well. It was a mess!
At the end of an hour Mike said, "As you can see, Paul, we are in desperate need of help." That was an understatement. I sat there in silence, staring at my pile of notes and the faces of two hurting people who were reaching out for any help they could get. I was so overwhelmed that I couldn't think of anything intelligent to say. I was probably only silent for a few seconds, but it seemed like hours. Finally I told them that I would think and pray about what they had told me, and we would get together to talk again.
After they left, the person I was mentoring said, "Boy, that was encouraging! I can do personal ministry! All you have to do is get people to tell their story and then promise that you'll think and pray. I thought it was much harder than it really is!"
I've thought back many times to that first afternoon with Mike and Marsha. I didn't give them much hope to hold onto, and I wasn't very successful at grabbing hold of their struggles. But given the mountain of confusing details, I think I made the right choice. Personal ministry gets you involved with people who are lost in the chaos of life, whose lives are complicated by their own foolish decisions or the sins of others. Often you will hear about years of attempted solutions that have only made things worse. You will see the destructive work of the Enemy who deceives, divides, and devours, and the impact of poor thinking and deficient counsel.
But personal ministry also allows you to see God at work, as he takes people far beyond their own strength and wisdom. You will witness his plan of redemption being worked out in the context of a person's life. You will have the privilege of connecting people with the resources that are theirs in Christ in a way that transforms heart and life. You will be his ambassadors as you seek to incarnate the love of the Lord Jesus, entering another person's world, being moved by his suffering, and offering the hope of the gospel. You will be part of the great work of God's kingdom.
Download


Copyright Disclaimer:
This site does not store any files on its server. We only index and link to content provided by other sites. Please contact the content providers to delete copyright contents if any and email us, we'll remove relevant links or contents immediately.