Hill Country by Gene Hill
Author:Gene Hill [Hill, Gene] , Date: October 7, 2021 ,Views: 175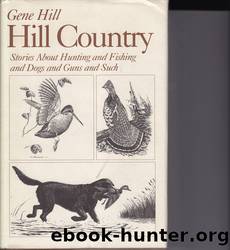 Author:Gene Hill [Hill, Gene]
Language: eng
Format: epub
Tags: Sports & Recreation, Hunting
ISBN: 9780924357664
Publisher: Down East Books
Published: 1978-08-30T00:00:00+00:00



THERE WAS SO MUCH DEBRIS swirling around Angel that Jake was shocked she could hold on. And there was no telling how long that would last. He did a quick estimate of the distance between the bank and the tree. It was no more than ten feet and normally that wouldn't be a problem. In these conditions, it was an abyss.
Jake's brain was going a mile a minute, trying to come up with a plan, when CiCi returned, carrying a bright orange ski vest and several life preservers. Rondelle was right behind her with a coil of rope looped over his shoulder.
"Don't come down here—it's too dangerous." Jake didn't want CiCi that close to the water, but he sure could use the group of burly counselors she had with her. Thank God the cavalry had arrived.
"Oh, all right," she conceded.
"You guys be careful getting down!" Jake yelled, the noise of the water almost drowning him out. "It's slick. And, Greg, Keep the kids up on the top of the hill, especially Rondelle." His favorite juvie was the most likely to try something silly, and the last thing they needed was someone else in the drink. Jake grabbed the ski vest CiCi tossed him and slipped it on. Heaven help them, they were on their own. Whatever they did, they'd better do it pretty damned quick.
Jake called the college kids over and told them his idea. "I'm going to tie a rope around my waist and jump in upstream. Then I'm going to try to swim to the tree. And after I get Angel tied to me, you guys pull like mad. I'm counting on you." He was hoping like hell he wasn't too heavy for this plan to work. These young men were literally his lifeline in this skirmish with the river. If they let go, he and Angel were both in a ton of trouble.
Download


Copyright Disclaimer:
This site does not store any files on its server. We only index and link to content provided by other sites. Please contact the content providers to delete copyright contents if any and email us, we'll remove relevant links or contents immediately.