Hidden Creed by Alex Kava
Author:Alex Kava , Date: August 20, 2020 ,Views: 359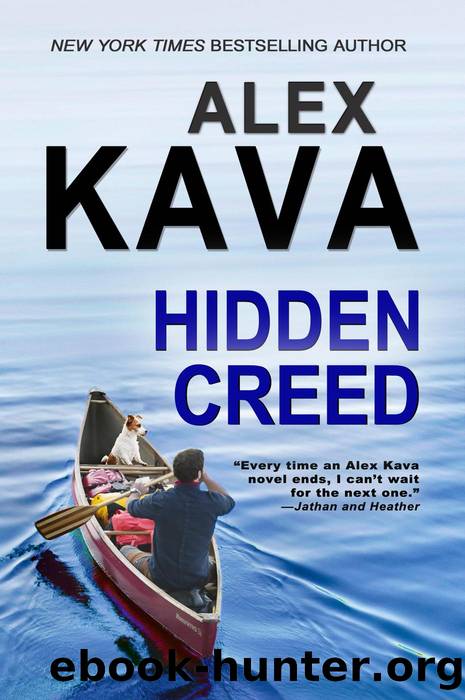 Author:Alex Kava
Language: eng
Format: epub, mobi
Tags: military, action, adventure
Publisher: Prairie Wind Publishing
Published: 2020-08-04T16:00:00+00:00



Chapter 39
Baptist Hospital
Pensacola, Florida
Jason felt fine, except for the sick feeling in his gut. He couldn't stop worrying about Scout. And he couldn't stop blaming himself.
The ER doctor had checked him out and said he was good to go. Ryder had already texted him a couple of photos. Said Scout was doing really well. He wasn't showing any more symptoms, but Dr. Avelyn wanted to keep him in the clinic for observation. By bedtime Scout would be able to return to Jason's doublewide.
All of that should have made Jason feel better. Instead, he kept playing it over in his mind, finding that bag of trash. He should have seen it sooner. Dogs relied primarily on their noses to process information. Humans used their eyes, and Jason certainly had a higher vantage point than Scout. How did he miss it? And why didn't they stumble across it yesterday?
The black, plastic bag had been left open, tossed into the grass with some of the contents spilling out. Jason was pretty sure animals hadn't ripped it open.
He left the ER and found a hallway that led into the main hospital. It was almost lunchtime, and Benny wouldn't be here for another hour to pick him up and give him a ride home. Jason had insisted that Ryder drop him off. He appreciated Ryder's offer to stay, but he didn't need a babysitter. If he couldn't be with Scout, he wanted Ryder to be there.
Even before they got to the hospital Jason knew he was okay. He knew what it felt like to have opioids in his system. In the early days, right after the IED went off and took half his arm with it, he'd been on a regiment of pain pills.
After the amputation and during rehab, doctors offered him pill after another pill without Jason asking. If he mentioned he couldn't sleep, he was handed a script for sleeping pills. None of them really helped, and he hated the side effects, but he never refused any of them. Instead, he had collected a treasure trove for what he called in his mind—never out loud—his Option B.
On the boat, Ryder reminder Jason that he had two doses of naloxone in his own daypack, so they had enough for Scout and one for Jason. Neither dog nor handler needed it. They took Scout to their clinic and left him with Dr. Avelyn. When Jason said he was fine, Ryder waved him back to the Jeep.
"Better safe than sorry," Ryder told him. Then he added, "We need to make sure you're okay. Scout will need someone to watch him for the next twenty-four hours."
Jason didn't argue. Ryder was a smart guy. He knew Jason might be lax in taking care of himself, but he'd do anything to take care of this dog. Ryder knew that was true even before Jason knew it himself. It was exactly how he'd gotten Jason to give up his Option B.
He took a detour making his way around to the front of the hospital.
Download


Copyright Disclaimer:
This site does not store any files on its server. We only index and link to content provided by other sites. Please contact the content providers to delete copyright contents if any and email us, we'll remove relevant links or contents immediately.