Guardian by Cannon Mark J
Author:Cannon, Mark J. [Last, First name] , Date: October 14, 2021 ,Views: 37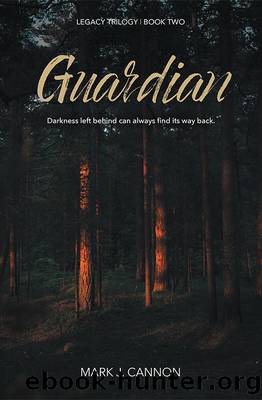 Author:Cannon, Mark J. [Last, First name]
Language: eng
Format: epub
ISBN: 978-1-77180-382-3
Publisher: Iguana Books
Published: 2021-09-07T22:00:00+00:00



29
Charmed
With Ben somewhat calmer after being informed about his responsibilities as they relate to his recently discovered additional and deadly powers, Sara could go out of town for work with less worry. On her last trip, she enjoyed a lunch meeting with Trevor Holdt, the liaison between her company and their primary client, Nordic Trails. Today was no different, with the meeting taking place at one of the villas designed by Cailey & Higgins. The project was still under construction, and Sara was taking over. Trevor was the consummate gentleman, opening the door of his pickup truck for Sara and pulling out her chair inside the restaurant.
"You know, Trevor, this isn't a date, so you don't need to do all this," Sara said as she adjusted herself in her chair, breaking the ice.
"Apologies, Sara. It's an old habit. It does get me into trouble occasionally. But I was told by the owner of my company to take care of you and make sure you have everything you need. And I am a mediator, salesman, and liaison slash rep for Nordic. So, here we are."
With the flow of conversation pouring from Trevor, Sara wasn't quite sure how to take him. "Well, there's no denying you're a salesman," she quipped.
"Again, apologies. I seem to have some nervous energy today. Shall we order?" Trevor asked, scanning the restaurant. Sara let out a quiet giggle, acknowledging his nervous demeanor.
"Sure. Whenever you're ready," she said, checking her phone with her own butterflies developing. After Trevor grabbed the attention of one of the waiters, he handed Sara a wine list from the centrepiece of the table.
"It's a little early in the day for wine, don't you think?" Sara asked, looking at Trevor with an inquisitive yet harmless smile. Trevor laughed out in response, agreeing with Sara. He pointed to the names on the bottom of the list, telling her much of the wine list came from Canada, and the ice wine and cider coolers were provided by Quinn's Orchards.
"See, these people are just outside of Franklin. That's where you moved to, right?" Sara became blushed, realizing Trevor wasn't considering ordering drinks and simply pointing out where the suppliers are from.
"The day we moved in we drove right by the place. They're our next-door neighbours and truly wonderful people. We've become such good friends." Sara's disposition was genuinely happy throughout lunch.
She felt an awkward guilt for enjoying herself in the company of a man. In the years since Jacob died, she hadn't so much as gone out for coffee with another man. Not that she didn't look, but she simply hadn't discovered anyone who interested her. Sara had buried herself in her work and focused her energy on being a good mother to Mary and Ben. In this moment, she wasn't sure how to feel about her reaction to Trevor. There was no denying the fact that she was enjoying his company.
"Next door, hmm, I can see a drinking problem developing on the horizon for a certain Sara O'Connell," Trevor said, sharing bouts of laughter with her.
Download


Copyright Disclaimer:
This site does not store any files on its server. We only index and link to content provided by other sites. Please contact the content providers to delete copyright contents if any and email us, we'll remove relevant links or contents immediately.