Game On by Janet Evanovich
Author:Janet Evanovich , Date: November 5, 2021 ,Views: 296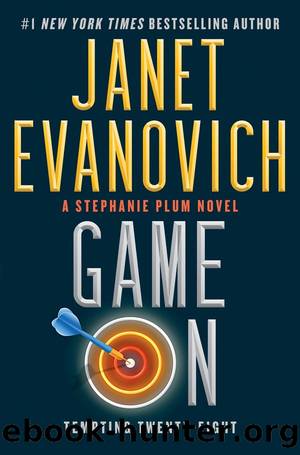 Author:Janet Evanovich
Language: eng
Format: epub
Publisher: Atria
Published: 2021-11-02T00:00:00+00:00



* * *
I set the laundry basket on the floor beside Melvin and took the seat across from him at the dining room table.
"There was a woman at your front door today," I said. "She knocked several times and left when no one answered."
"A woman? What kind of woman?"
"Your age."
"I've never had a woman visit me," Melvin said. "Was she pretty?"
"Yes. In a natural kind of way." I showed him the picture on my phone. "Do you know her?"
"She looks familiar, but I don't think I know her. Maybe I've seen her around."
"Her name is Charlotte Huck."
He shook his head. "Nope. What did she want?"
"I don't know. I didn't get to talk to her."
"She has nice hair," Melvin said. "It looks silky."
Beauty is in the eye of the beholder, I thought. And her hair did indeed look silky.
"How's the hack going?" I asked him.
"Not so good. Turned out to be a red herring. I only had access to a bunch of fake files and directories. Every other directory was named idiot or loser and all of the files just say 'retribution' over and over. They looked legit at first. Some of them gave me bogus financial information. Cryptocurrency accounts. If the information was real and we were inclined, we could make millions, maybe billions, in blackmail."
"Are you inclined?"
"No," Melvin said. "I wouldn't know what to do with the money. I have almost everything I need."
"What are you lacking?" I asked.
"A girlfriend," he said. "I'm not good with girls. I like them but I never know what to say. And I might like to have a cat someday."
"We brought your teddy bear," Lula said.
"Mr. Bumbum!" Melvin said. "He's my best friend. I tell him everything."
Grandma set a platter of sandwiches on the table. "We got egg salad, ham and cheese, roast beef with horseradish, and chicken salad," she said.
My mom set plates and napkins out. "Help yourself," she said. "We have more in the kitchen."
I took an egg salad sandwich and Morelli called.
"I got three hits on my query about murders involving tongue mutilation," he said. "A nineteen-year-old male in North Dakota, a thirty-two-year-old male in Connecticut, and a thirty-six-year-old male in North Carolina. In each case computer equipment was missing and the crime was written off as a homicide committed during a burglary."
"Wow."
"Yeah," Morelli said. "That was my reaction, too. How's it going on your end?"
"Nothing I can talk about right now, but it's good."
"Understood."
"What about you?" I asked Morelli. "Are you making any progress with Stupin and the other hacker?"
"Gerard Gouge," Morelli said. "Nothing I can talk about right now, but it's going sucky."
"Understood," I said.
I finished my sandwich and took my plate to the kitchen. My mom was at the table, knitting.
"That looks great," I said. "What are you making?"
"A scarf," she said. "I started it last night."
"She's been working on it all morning," Grandma said. "At this rate we're going to have to go out and get more yarn."
"I have to get back to work," I said. "If you go shopping for yarn, leave Melvin at home.
Download


Copyright Disclaimer:
This site does not store any files on its server. We only index and link to content provided by other sites. Please contact the content providers to delete copyright contents if any and email us, we'll remove relevant links or contents immediately.