Freemasons for Dummies by Hodapp Christopher;
Author:Hodapp, Christopher; [Hodapp, Christopher] , Date: October 6, 2021 ,Views: 411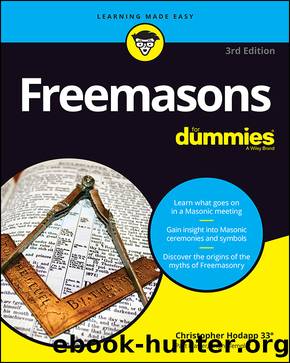 Author:Hodapp, Christopher; [Hodapp, Christopher]
Language: eng
Format: epub
Publisher: John Wiley & Sons, Incorporated
Published: 2021-10-01T00:00:00+00:00



Knights of Columbus
Catholics have been forbidden by the Vatican from joining the Freemasons since 1738, but that doesn't mean Catholics didn't want to engage in fraternal fun. In 1882, Father Michael McGivney, a priest in New Haven, Connecticut, started the Knights of Columbus (www.kofc.org). A strong wave of anti-Catholic sentiment affected the United States at that time, so Father McGivney's order of Knights gave Catholics their own fraternity and a sense of public pride in their religion. It was named after Christopher Columbus, the Catholic discoverer of America, and the group's mission was clearly designed to compete with other popular men's fraternities. It vowed to assist widows and orphans of members, along with providing insurance plans.
The Knights of Columbus is the world's largest Catholic family fraternal service organization, with 16,000 councils worldwide and nearly 2 million members. In fact, it is one of the very few fraternal organizations in the United States that has actually increased in membership since 1960. While they remain a male-only group, women may participate in KofC activities by joining the Columbiettes. Members are involved in volunteer service programs for the Catholic Church, their communities, their families, young people, and each other. Unlike the Freemasons, the Knights of Columbus take strong positions on social issues in line with Catholic doctrine. All members must be of the Catholic faith.
The Knights offer four ceremonial degrees, dealing with charity, unity, fraternity, and patriotism. It has military-esque parade drill teams called the Fourth Degree Color Corps. In fact, when the Masonic Knights Templar, the Odd Fellows' Patriarchs Militant, the Knights of Columbus's Color Corps, and many others all marched in parades, these very similar-looking military drill team orders were the proud public faces of these fraternities. In the last few years, the KofC decided to modernize their Patriarchs Militant uniforms, and dropped their 19th century look.
Since the 1990s, Masonic groups and the Knights of Columbus have engaged in joint activities such as community fundraisers and fellowship breakfasts to spread the friendship of fraternalism and breach disagreements from long ago.
Download


Copyright Disclaimer:
This site does not store any files on its server. We only index and link to content provided by other sites. Please contact the content providers to delete copyright contents if any and email us, we'll remove relevant links or contents immediately.