Eliot Ness and the Mad Butcher by Max Allan Collins
Author:Max Allan Collins , Date: August 6, 2020 ,Views: 696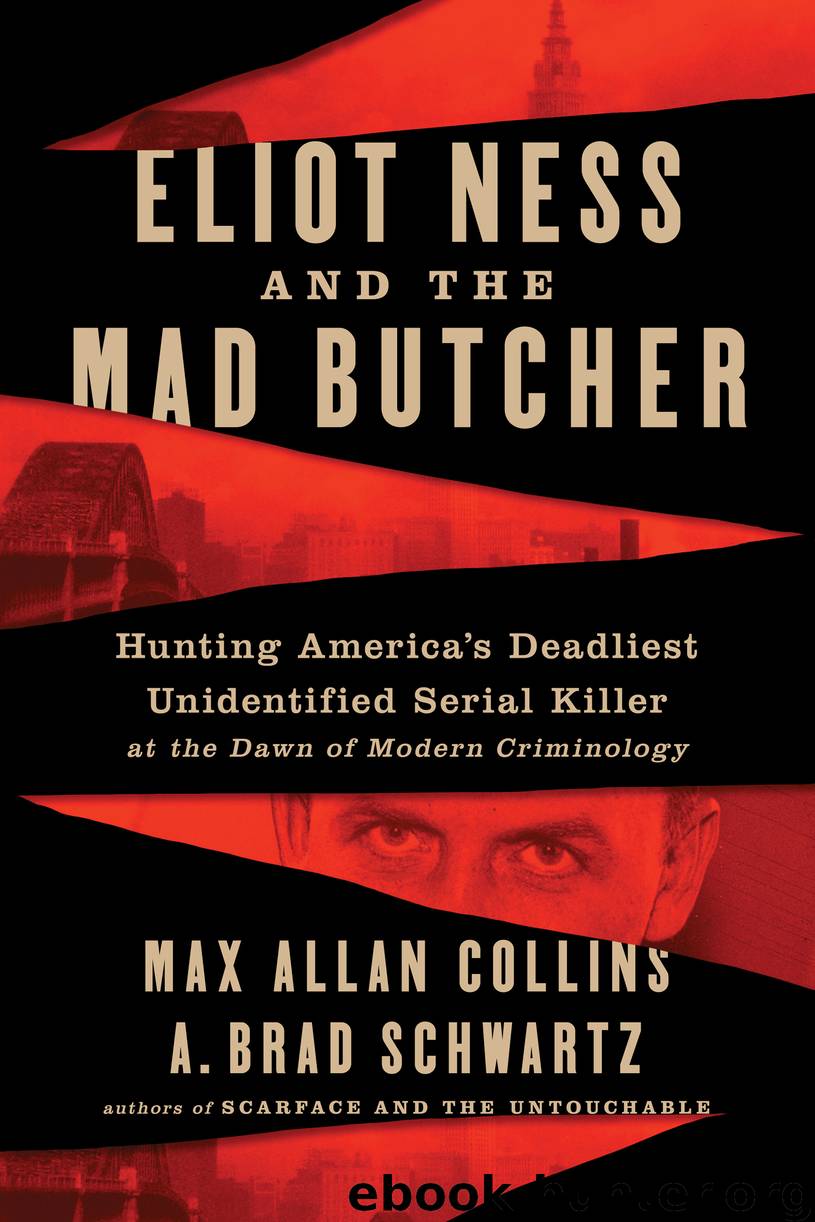 Author:Max Allan Collins
Language: eng
Format: epub
Publisher: HarperCollins
Published: 2020-06-22T16:00:00+00:00



AFTER TWO YEARS in the federal service, Ness's interest began to wane. The work still offered challenges and affirmation—Ness's scrapbook bulged with newspaper clippings and letters of praise and thanks, and the navy would, after the war, give him a Meritorious Service Citation. But the old restlessness returned.
Ness's close friend Dan Moore chalked it up to a desire for more money. As SPD director, Ness earned a better salary than ever before, but he'd gotten used to a perk-driven standard of living in Cleveland that a government paycheck couldn't achieve. Besides, his fortieth birthday had come and gone—working so hard had lost its appeal.
Moving among Cleveland's elite, he became friendly with wealthy Ohio broker Ralph Rex and his family. Ralph owned a controlling interest in Diebold, the Canton-based manufacturer of safes, locks, and office equipment; his wife, Peggy, Cleveland's "first lady of aviation," had an interest in flight dating back to 1911. Though she never earned her pilot's license, Peggy owned a plane, belonged to aviation organizations, and opened her home to such legendary pilots as Eddie Rickenbacker and Amelia Earhart.
Ralph and Peggy's daughter, Janet, shared her mother's passion. An "aviator and speedboat enthusiast," according to the Miami Herald, Janet had been briefly married to a well-known polo player. The family, when not cruising on their yacht, divided their time between Ohio and a Miami Beach winter home. Since the mid-1930s, Ness had socialized with the Rexes on infrequent Florida trips.
After Ralph died in December 1943, Peggy and Janet asked Ness to represent them on Diebold's board. Ness had his business degree and a fanatical honesty about money to recommend him. The Rexes—thirty-four-year-old Janet, in particular—had apparently fallen under the Ness spell, and their closeness spawned rumors that Ness was simultaneously wooing both mother and daughter.
"He was with them all the time," recalled the company's vice president and treasurer. "The daughter, I guess, had a little leaning toward him."
In February 1944, on his way to a conference in Puerto Rico, Ness swung through Miami and joined Janet at Mother Kelly's World Famous Bar. A photographer found them at a table for two, a glass in front of each—hers almost full, his all but empty. Janet looked guardedly over her shoulder, a cigarette between her fingers. Ness wore a goofy smile, eyes half-lidded.
He added the photo to his latest scrapbook with a handwritten comment: "It was 10:30 A.M. and the first drink—and that's my story."
Ness's bond with the Rexes led to Diebold electing him chairman of the board in May 1944 at triple his SPD salary. After briefly trying to hold down both jobs, Ness resigned as SPD director on August 21.
He offered to stay on as an unpaid consultant, believing the work should continue in peacetime. But as the war wound down and penicillin greatly reduced the time it took to treat venereal disease, the SPD became superfluous.
In Washington, Ness lobbied his old boss, Senator Harold Burton, to save the program. Burton was sympathetic, but his colleagues were not. In summer 1946, Congress consigned the SPD to the bureaucratic scrap heap.
Download


Copyright Disclaimer:
This site does not store any files on its server. We only index and link to content provided by other sites. Please contact the content providers to delete copyright contents if any and email us, we'll remove relevant links or contents immediately.