Obsession (The Volkov Mafia Series Book 1) by S.E Foster
Author:S.E Foster [Foster, S.E] , Date: May 21, 2017 ,Views: 1133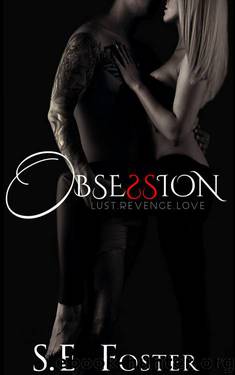 Author:S.E Foster [Foster, S.E]
Language: eng
Format: epub
Publisher: Samantha Harrington
Published: 2015-09-28T23:00:00+00:00



CHAPTER FOURTEEN
Damien
"Come for me Faith," with my words she explodes around me as I thrust again, pushing myself over the edge to join her, feeling my release hit her, deeper than I have ever felt before.
Looking at her takes my breath away and I can't believe how lucky I am to have her here in my arms. I don't ever want to wake up and find her not there it would destroy me.
After coming back down I roll off of her and lie on my side looking at how beautiful she is. I see all of the beauty on the outside, but what astounds me is the beauty she has inside matches it perfectly. Just being with her makes me want to be a better man. For her. For me. She deserves the best, and I want to be that for her.
"Do you think what we are doing is wrong?" her question startles me and I'm not sure I like her train of thought. Why would she even ask that? Can't she see how good we are together, how she was made for me. It's right then, in that moment that I realise I can't function without her.
"What do you mean Faith?" I ask, there is no way that I'm putting anything into her head. What she feels, what she thinks. It needs to be all her.
"You and me. How do we explain to people how we met? I mean, 'oh you know, the normal way. He kidnapped me and we just kind of happened.' It's not normal Damien. People are going to think I have Stockholm syndrome or something. They're going to think you need to be locked up. I mean, I know we've not defined anything, but I can't help my crazy thoughts"
Hell. This is not what I wanted to be dealing with first thing today, especially when I have to be back in the office in 30 minutes to sort out the plan for Darren.
"Hey what's brought this on, have I ever hurt you Faith? All I want, all I've ever wanted since you woke up in that room is to keep you safe." I ignore the defining us comment. It's too soon to tell her that I think I love her, I don't want to scare her away again. Plus as the days go on, that 'I think' is turning into an 'I know'. I start to realise that it's true, I'm hopelessly in love with her.
"No you haven't hurt me Damien, but that's not to say I have not been hurt because of you." Her honesty cripples me. If I could bring Connor back and punish him again every day for what he did to her I would, but she's right. She was hurt because of me, and I'm going to make damn sure it doesn't happen again.
"I know Faith, and I'm sorrier than you'll ever know. I am doing everything in my power to keep you safe from Darren. I won't let anything else happen to you, but I need you here to do that Faith.
Download


Copyright Disclaimer:
This site does not store any files on its server. We only index and link to content provided by other sites. Please contact the content providers to delete copyright contents if any and email us, we'll remove relevant links or contents immediately.