Eidolon by Grace Draven
Author:Grace Draven [Draven, Grace] , Date: October 8, 2020 ,Views: 439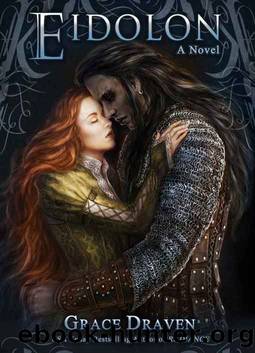 Author:Grace Draven [Draven, Grace]
Language: eng
Format: epub
Tags: Adult, Fantasy, Romance
ISBN: 9781310196522
Publisher: Balestra Publishing, LLC
Published: 2016-04-17T16:00:00+00:00



CHAPTER ELEVEN
Serovek returned to Saggara almost as soon he left, this time with a companion. Brishen met him in the stables as he unsaddled his mount. "Change your mind, yet?" he asked. He didn't think the margrave would, but Brishen certainly understood if he did.
Serovek surrendered tack and horse to a waiting groom with an arch stare. "I have many weaknesses; indecision isn't one of them. We spotted the Haradis survivors on our journey here and the galla that followed them. Wolves tracking a herd, ready to cull the weak and unwary. More than half the kingdom of Bast-Haradis is about to descend on Saggara."
"So my scouts have reported. We can hardly feed the ones already here." His gaze settled on the silent newcomer standing behind Serovek. "Who is this?"
"A bit of good news in the midst of the bad." Serovek motioned, and the other man stepped forward. "The monk I told you about. This is Megiddo Cermak."
Slender as a stripling lad next to the bigger, powerfully built Serovek, Megiddo possessed a gravitas woven into every fiber of his bearing. From his stance to the elegant construction of his facial features, he wore dignity like a second skin. That he was a cenobite in service to a god didn't surprise Brishen.
The monk executed a graceful bow. "It is an honor, Your Majesty," he said in measured tones.
"Welcome to Saggara…" He paused, wondering how the follower of an unknown religious order was addressed.
Megiddo's lips tilted as if he heard Brishen's thoughts. "I'm called by my birth name or my designation, macari."
"What does 'macari' mean?"
Megiddo shrugged. "Monk."
Serovek grinned. "Not ones for poetic imprecision, these monks."
Brishen laughed for the first time in days. "An admirable trait." He motioned for them to accompany him back to the manor house. "Come. You can break your fast and satisfy my curiosity as to how something as simple as a rune circle trapped galla, even for a short time."
They settled into the ground floor study, which had become the central hub of planning and discussion for anything involving Saggara's defenses and ability to offer sanctuary. A tray of bread and thinly sliced cold meat was brought in, along with pitchers of warm ale. Brishen leaned back in his chair, claw circling his goblet rim as he observed his guests. Serovek tucked into the food without hesitating while Megiddo declined.
"What gods do you serve, Megiddo?"
The monk sipped at his ale before setting it aside. "A single god only. Faltik the One."
Serovek dunked a piece of bread into his ale before pointing it at Megiddo. "Megiddo's a heretic," he declared blithely, ignoring the other's disapproving side glance. He popped the bread into his mouth and washed it back with a swallow of ale. "A foreign faith that's gained hold in Belawat." He stabbed a slice of meat with his eating knife. "Its practitioners don't hawk their beliefs too loudly. It isn't sanctioned by the king."
Brishen, intrigued, wondered what moved a worshipper to put all their faith into a single, solitary god with no pantheon behind him.
Download


Copyright Disclaimer:
This site does not store any files on its server. We only index and link to content provided by other sites. Please contact the content providers to delete copyright contents if any and email us, we'll remove relevant links or contents immediately.