Dying Words by C. A. Larmer
Author:C. A. Larmer [Larmer, C. A.] , Date: December 8, 2019 ,Views: 225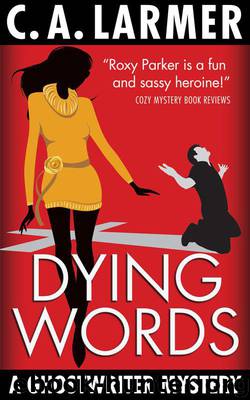 Author:C. A. Larmer [Larmer, C. A.]
Language: eng
Format: epub
Tags: Fiction, Mystery & Detective, women sleuths
ISBN: 9780992474324
Google: T1DAoAEACAAJ
Amazon: B00DPUYG5M
Publisher: Larmer Media
Published: 2013-06-15T08:35:42.530000+00:00



Not if Ginny Bergman had anything to do with it. Wolfgang's wife was clearly not happy to see Roxy again so soon and told her as much.
"Look, Roxanne, I do not like all these visits, you are not welcome to just drop in whenever you please! Who do you think you are? The Queen?!" She bat her thick black eyelashes at Roxy and folded her arms across her ample breasts, pushing them up and out of the skin-tight, black Lycra jacket she was wearing over leopard print leggings. "I told you before, he is very, very sick!"
Roxy apologised. "But I wouldn't be interrupting him, Ginny, if it wasn't extremely important. I won't take more than a few minutes. I promise." She tried batting her own eyelids innocently and when that didn't work she added somewhat cryptically, "I've got some questions that absolutely need answering. If Sir Wolfgang can't or won't answer them, I'll have to find someone who will."
That did the trick. Ginny's eyes narrowed and she sighed dramatically before leading Roxy through the house and, this time, out the back into the sprawling back yard. Roxy had interviewed Wolfgang out here several times before, but it still took her breath away each time she saw it. It was a truly stunning garden, much like an English country estate, transplanted to the Australian landscape. There were immaculately clipped hedges, one in the shape of a dove, another looked a little like a turtle. There were numerous pebble pathways winding through pretty clusters of lavender and camellias, violets and rose bushes, a spouting fountain against a rock wall at one end, a lacy pergola at the other. And right in the middle, surrounded in fresh green lawn sat a towering weeping willow under which several wrought iron chairs and a table had been placed.
It was late afternoon and the sun was beginning to lose its shine. Roxy spotted Wolfgang sitting just beyond the shade of the willow tree in a recliner, a blanket over his legs and what looked like a dark hat on his head.
Ginny took the pebbled pathway towards the tree and then held a hand up half way along to indicate that Roxy was to remain put. Ginny continued on, bent over and had a word with her husband before waving a hand to usher Roxy on.
Roxy walked up slowly, giving him enough time to gather himself, then smiled as she approached. He was wearing another velour tracksuit and had a fisherman's cap over his scaly bald head. Beside him was a small, wicker table on which had been placed a newspaper, a jug of water and an empty glass. Things must be grim, Roxy thought. He's off the scotch.
"You're becoming my stalker," he said croakily, his watery eyes meeting hers. Today they were more lacklustre than lecherous and she preferred them that way.
He waved at one of the chairs under the tree and she pulled it closer and sat down. Ginny remained standing behind her husband, her arms still crossed, her eyebrows nudged together fiercely.
Download


Copyright Disclaimer:
This site does not store any files on its server. We only index and link to content provided by other sites. Please contact the content providers to delete copyright contents if any and email us, we'll remove relevant links or contents immediately.