Dreaming of Home by Glynna Kaye
Author:Glynna Kaye , Date: October 29, 2022 ,Views: 190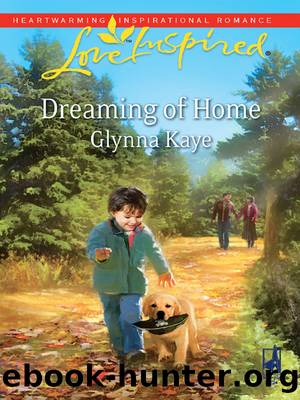 Author:Glynna Kaye
Language: eng
Format: epub
Publisher: Steeple Hill
Published: 2009-10-14T16:00:00+00:00



Meg wiped the tears of laughter from her eyes. Bill was a riot.
"So," she said as she caught her breath and poised a fork over the sliver of cake she'd allowed herself. No frosting. "How long did it take Joe to notice the new basketball hoop?"
"Weeks." Bill chuckled and cast a pointed look at his son. "Totally oblivious to what was right smack dab in front of his face."
"Yeah, yeah." Joe returned "the look" and shifted in his chair. "The truth of it is, when I was fifteen I seldom went back there. I mean I wasn't driving yet or anything."
"Like your bike wasn't in the garage, kiddo?"
Joe shrugged. And ooh, a smile. The first she'd seen all evening, and it lifted her spirits more than she cared to admit. After his help in hastening her departure earlier in the afternoon, she didn't expect to pick up her cell phone to an invitation to the birthday dinner as she was leaving the Warehouse. Of course, it had been Davy's voice at the other end of the line, not Joe's.
Davy crammed another forkful of cake into his mouth, then washed it down with a swallow of milk. "Is that the same basketball hoop we have now, Grandpa?"
"That's right. You need to get your dad to put a new net on it."
The boy turned to his father. "Will you, Dad?"
"I'll see what I can do."
"All right!" Davy downed another bite of cake. "Do you know how to play basketball, Miss Meg?"
"I've shot my fair share of baskets." She set her fork on the edge of the plate. "And air balls."
Joe raised a brow in her direction.
"Brothers," she said, meeting his questioning gaze. "If I wanted someone to play with, I often had to settle for the boys of my family. They weren't into Barbie."
Bill chuckled as he stood to gather empty plates. "I'm glad you could join us tonight, Meg. Special thanks to you and Davy for the home-baked cake."
"You're welcome. Davy and I had fun." She smiled at the boy, then turned to Joe, hoping the expression she directed his way would be construed as a peace offering. "And thanks for allowing me to share in the oven potatoes and grilled chicken. The teriyaki marinade was scrumptious."
Joe nodded acknowledgment, but apparently had used up all his smiles for the evening.
Okay. Fine. She folded her napkin. "I hate to eat and run, but Reyna called as I was pulling up here, and I promised I'd pick up a few things for her at the grocery store. Little Missy's sick and Jason's out of town, so she's on her own."
Bill set a stack of dishes in the sink, then leaned against the counter. "That brother-in-law of hers staying out there?"
"I don't know. Maybe." Why was Joe watching her so intently?
Bill folded his arms. "That brother-in-law should make himself useful. Not make you run around in the dark."
"Which makes me think he's not staying there." She stood, determined to run the errand and get back to her cozy little RV.
Download


Copyright Disclaimer:
This site does not store any files on its server. We only index and link to content provided by other sites. Please contact the content providers to delete copyright contents if any and email us, we'll remove relevant links or contents immediately.