Dead Ringer: A Music Lover's Mystery by Sarah Fox
Author:Sarah Fox , Date: July 19, 2020 ,Views: 92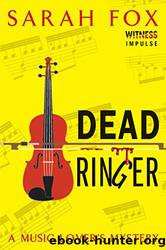 Author:Sarah Fox
Language: eng
Format: azw3, mobi, epub
Tags: Fiction, General, Women Sleuths, Cozy, Mystery & Detective
ISBN: 9780062413024
Publisher: HarperCollins
Published: 2015-06-02T00:00:00+00:00



Chapter 14
"I THOUGHT YOU suspected Clausen," JT said when I told him about Susannah's story and my latest suspicions.
"I did. I do." I lowered the passenger window of JT's truck so the stench of smoke from my clothes and hair wouldn't overwhelm us. "I guess I suspect several ­people. McAllister just happens to be at the top of my list at the moment."
JT turned his truck off a tree-­lined street and onto a busy road, heading toward my neighborhood. "So who else is on your list?"
"Well, there's Ray."
"The guy who just saved your life?"
"Maybe the whole rescue thing was meant to deflect suspicion away from him."
JT sent me a skeptical, sidelong glance.
"Why not?"
"I suppose it's a possibility," he conceded. "But setting fire to a church and endangering ­people's lives seems a bit over the top if his sole purpose was to make himself look unsuspicious."
I tugged on my left earlobe and breathed in the fresh damp air blowing in through the open window. "Maybe he wanted to scare me because I'm getting too close to the truth."
"Are you?"
"Am I what?"
"Getting close to the truth."
"I have no idea." I rested my head against the back of the seat. "All I've got is a bunch of suspicions. But he might think that I know more than I do."
"What would make him think that?"
I searched my memory for anything I might have done to make Ray believe I could be a threat to him. "I was asking questions last rehearsal. About whether he'd seen Jeremy in the minutes before his death. But I don't think that would have been enough to worry him, even if he is the killer." I thought things over for a moment. "And I have no idea why he would want to kill Jeremy. But that's why he's lower down my list than McAllister, who had motive and opportunity for both Jeremy's murder and the fire. He probably wanted to get rid of me and Susannah so no one would find out about the video."
If I'd had a physical list of suspects, I would have underlined and circled McAllister's name. He seemed to me the most likely culprit.
"You said you suspected several ­people," JT reminded me. "Who else?"
"Clover seems pretty upset that Jeremy dumped her when he proposed to Shelley. And her boyfriend looks like a grizzly bear on steroids. If he found out about Clover and Jeremy, he might have decided to take Jeremy out of the picture, whether or not he knew that things were over between them."
"But what about the fire?"
"Clover knows I was asking questions the other night." I shook my head. "Nope. I still like the reverend for it." I tapped my fingers on the armrest. "I should tell the detectives about him."
"Really?" JT didn't sound too thrilled.
"Don't you think they should know? I bet they have no clue that Jeremy was blackmailing McAllister."
"You don't even know that he was blackmailing McAllister," JT pointed out.
I made a face. "Fine. But I strongly suspect that he was, given what Susannah told me.
Download


Copyright Disclaimer:
This site does not store any files on its server. We only index and link to content provided by other sites. Please contact the content providers to delete copyright contents if any and email us, we'll remove relevant links or contents immediately.