Dave Bing by Dave Bing
Author:Dave Bing , Date: September 8, 2022 ,Views: 51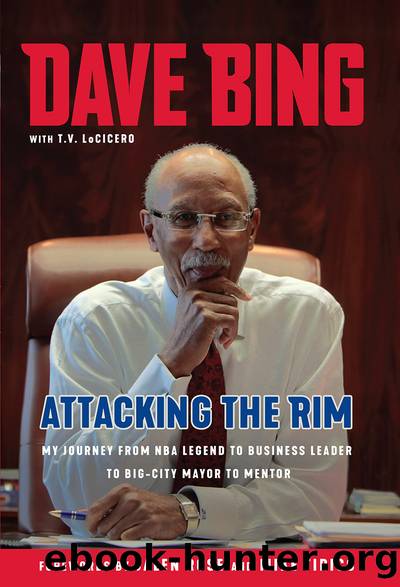 Author:Dave Bing
Language: eng
Format: epub
Publisher: Triumph Books
Published: 2020-09-17T18:43:12+00:00



9. The Years in Exile
With my trade to Washington not finalized until late August, the question was: How should I handle this with the family? With all the kids about to start school in Southfield and no time to find a suitable home in D.C., I wasn't prepared to move the whole family. So the decision was that Aaris and the girls would stay here, and I'd get an apartment there. Of course, my parents wanted me to come back and stay with them, but at 32 years old, I wasn't about do that.
I did find a very nice apartment relatively close to where I had grown up, but on the Maryland side. And now I had things to do that I had not ever had to think about before—like furnishing this apartment. Even though I had family and friends in the area, I was really all by myself for the first time. So it was an adjustment.
And then there was the other major adjustment—to my new team, the Bullets. Fortunately, I'd played in All-Star games with Wes Unseld and Elvin "Big E" Hayes, and I knew all the other players. They made it easy, welcomed and accepted me right away. General manager Bob Ferry and coach K.C. Jones knew they were getting a better player, and frankly, both seemed happy and excited about the deal. That's not a knock on Kevin Porter, but I was definitely a better player. And this was a team that had just won 60 games and competed for the NBA championship. So I was pleased with the prospect of finally playing on a team with a real chance to go all the way.
But at the same time, I knew I had to adjust, because I was coming to a club with two bona fide All-Stars in Wes and Elvin and potentially a third with shooting guard Phil Chenier. So as an All-Star myself, I knew I should not come in and try to dominate. I needed to figure out how my skills and personality fit into this talented squad, and I tried to make it as easy as possible for them. They made it pretty easy for me as well, and it all went quite smoothly.
Actually, being away from Aaris and the girls was the hard part. It was a tough time, with lots of phone calls back home. With the kids in school it was difficult for them to come to me, and with a busy 82-game schedule, I couldn't get back to them very often. So it was a tough adjustment. And the only good thing was that I had family in D.C., along with all the people I grew up with there, and we reconnected.
Once the season got underway, I quickly realized that Phil Chenier was one of the good guys, and he became like a little brother to me. He was a very good player, a great shooter, and a strong defender. We were about the same size, but since he was a shooting guard, I really became the team's point guard.
Download


Copyright Disclaimer:
This site does not store any files on its server. We only index and link to content provided by other sites. Please contact the content providers to delete copyright contents if any and email us, we'll remove relevant links or contents immediately.