Culture by Terry Eagleton
Author:Terry Eagleton [Eagleton, Terry] , Date: August 11, 2020 ,Views: 403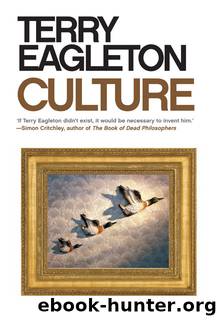 Author:Terry Eagleton [Eagleton, Terry]
Language: eng
Format: azw3
ISBN: 9780300218794
Publisher: Yale University Press
Published: 2016-05-23T16:00:00+00:00



CHAPTER FOUR
An Apostle of Culture
LIKE HIS COMPATRIOT Edmund Burke, Oscar Wilde was educated at Trinity College, Dublin and later made a splash in London. Both men were much preoccupied with art. Burke, as we have seen, was the author of a treatise on aesthetics which has a bearing on political questions, while Wilde was a flamboyant aesthete whose devotion to art for art's sake, as we shall see in a moment, was among other things a devious form of political radicalism. At a conservative arithmetical estimate, both authors led double lives. Burke was an eminent Westminster politician who in the course of his high-flying career in England kept much of his Irish provenance a close secret. His family in Ireland had Catholic connections, about which he was understandably sensitive. In fact, a distant relation of his, a Catholic priest, had been hanged, drawn and quartered by the British as a political rebel. It was not the kind of subject one would readily bring up in the London coffee houses. Wilde was both socialite and sodomite, upper class and underdog, respectable citizen and hirer of rent boys, a shameless bon viveur who laid claim to the title of socialist. His very name yokes the Gaelic 'Oscar' to the English 'Wilde', linking a mythological Irish hero to the world of middle-class drawing rooms. If he hobnobbed with the Lady Bracknells, he also moved at ease in insurrectionary circles, counting revolutionaries like William Morris and Peter Kropotkin among his friends.
Both Wilde and Burke were master-rhetoricians legendary for their verbal élan, and as Irish émigrés in England both ended up biting the hand that fed them. They were also akin in their distaste for British colonialism. Though Burke was not hostile to the colonial venture as such, he felt some solidarity with anti-British rebels in Ireland and America and arraigned a prominent English colonial official, Warren Hastings, before the House of Commons. For his part, Wilde satirised the very English upper classes into whose ranks he had smuggled himself as a sort of fifth columnist. His sparkling stage comedy is both impeccably conventional and secretly subversive. He was a socialist and Irish republican, the son of a mother who was a celebrated feminist and nationalist rebel, and a father who was a distinguished Irish scholar and patriot. With his usual contrariness, however, he believed that Ireland should govern England rather than vice versa. The two émigrés were both to fall prey to Britain's contempt for its longest-standing colonial subjects. Burke was sneered at as a Paddy, while Wilde was imprisoned for bedding a sprig of the English aristocracy whose filial duty was to reproduce his ancestral line rather than to consort with exotic gay foreigners.
Both Irishmen felt compassion for the poor and dispossessed, perhaps feeling themselves to be more fortunate examples of such outcasts. The Irish writer adrift in London and subject to racial abuse was a higher version of the immigrant road-builder or railway worker. Wilde once gave away his coat to a beggar on London Bridge.
Download


Copyright Disclaimer:
This site does not store any files on its server. We only index and link to content provided by other sites. Please contact the content providers to delete copyright contents if any and email us, we'll remove relevant links or contents immediately.