Cracking the Sat French Subject Test, 2013-2014 Edition by The Princeton Review
Author:The Princeton Review [Review, The Princeton] , Date: October 27, 2014 ,Views: 1406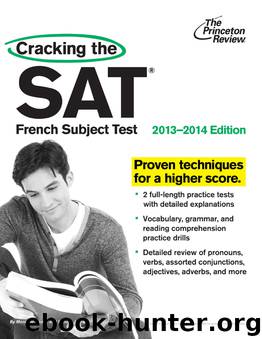 Author:The Princeton Review [Review, The Princeton]
Language: eng
Format: epub
Tags: Itzy, Kickass.to
ISBN: 9780307945778
Amazon: B00C4BA5X0
Publisher: Princeton Review
Published: 2013-04-16T04:00:00+00:00



A good resource to have
on hand is a verb book. A
good verb book will tell
you how to conjugate
a given verb and which
prepositions are used with
that verb.
Verbs That Always Take Prepositions
réfléchir à
Je réfléchis à mon avenir.
I am thinking of my future.
penser à
Je pense à ma mère.
I am thinking of my mother.
penser de
Que pensez-vous du nouveau président?
What do you think of (about) the new president?
participer à
Je participe aux Jeux Olympiques.
I am in the Olympic games.
assister à
Est-ce que vous allez assister au concert?
Are you going to attend the concert?
faire attention à
Faites attention aux assiettes en porcelaine!
Be careful with the porcelain plates!
répondre à
Les élèves répondent aux questions du professeur.
The students answer the teacher's questions.
obéir à
Le soldat obéit aux ordres.
The soldier obeys the orders.
parler de
De quoi parlez-vous? Du chat?
What are you talking about? About the cat?
avoir peur de
J'ai peur des araignées.
I am afraid of spiders.
risquer de
Il risque de tomber.
He may fall.
venir de
Je viens du supermarché.
I come from the supermarket.
avoir envie de
J'ai envie d'un café.
I feel like having a coffee.
avoir besoin de
J'ai besoin d'un crayon pour écrire.
I need a pencil to write.
Download


Copyright Disclaimer:
This site does not store any files on its server. We only index and link to content provided by other sites. Please contact the content providers to delete copyright contents if any and email us, we'll remove relevant links or contents immediately.