Coercing Virtue by Robert H. Bork
Author:Robert H. Bork [Bork, Robert H.] , Date: March 4, 2015 ,Views: 869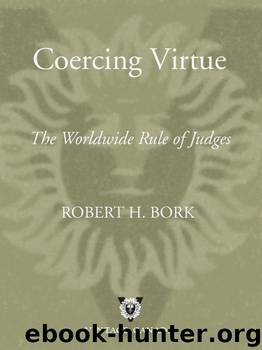 Author:Robert H. Bork [Bork, Robert H.]
Language: eng
Format: epub
ISBN: 978-0-307-36853-9
Publisher: Random House of Canada
Published: 2002-03-03T16:00:00+00:00



Minister of Justice Jean Chrétien reported the same understanding to the committee.
The clarity of this history did not deter Justice Lamer, who reached a conclusion that Manfredi, with considerable restraint, calls "remarkable." The clear intention of the legislature did not save the Act from a declaration of unconstitutionality. The Justice discounted the testimony of the Justice Department and the minister of justice because it was given by civil servants and did not sufficiently indicate the intentions of the legislative bodies that adopted the Charter. The absence of any counterargument in those bodies would normally, of course, indicate that they agreed with the drafters. If the Court bound itself to the substantive intent underlying the various constitutional guarantees, the Charter's rights and freedoms would "become frozen in time to the moment of adoption, with little or no possibility of growth and adjustment to changing societal needs." This interpretation, of course, ignores the function of Parliament and the provincial legislatures in meeting changing societal needs.
Some Canadian commentators see the same problems that certain of their United States counterparts do with judicial review. Manfredi agreed that "rights-based judicial review is a positive element of liberal democracy" because it safeguards "individual rights and liberties by enforcing constitutional limits on legislative and executive power," ensuring that "liberal democracy does not degenerate into tyranny." But he went on in a passage partially quoted in the epigraph to this chapter:
On the other hand, rights-based judicial review taken to its extreme becomes an anti-democratic power, wielded by courts to alter the fundamental character of a nation's constitution without significant popular participation or even public awareness. Left unchecked, judicial power in this sense poses the same threat to liberal democracy as do other forms and uses of political power. … [In Canada] judicial power has continued to expand as the legitimacy of the notwithstanding clause has been further eroded. Judicial supremacy, in other words, is overtaking constitutional supremacy.
Download


Copyright Disclaimer:
This site does not store any files on its server. We only index and link to content provided by other sites. Please contact the content providers to delete copyright contents if any and email us, we'll remove relevant links or contents immediately.