Canavan, Trudi - Age of the Five 02 by Canavan Trudi
Author:Canavan, Trudi , Date: July 16, 2020 ,Views: 110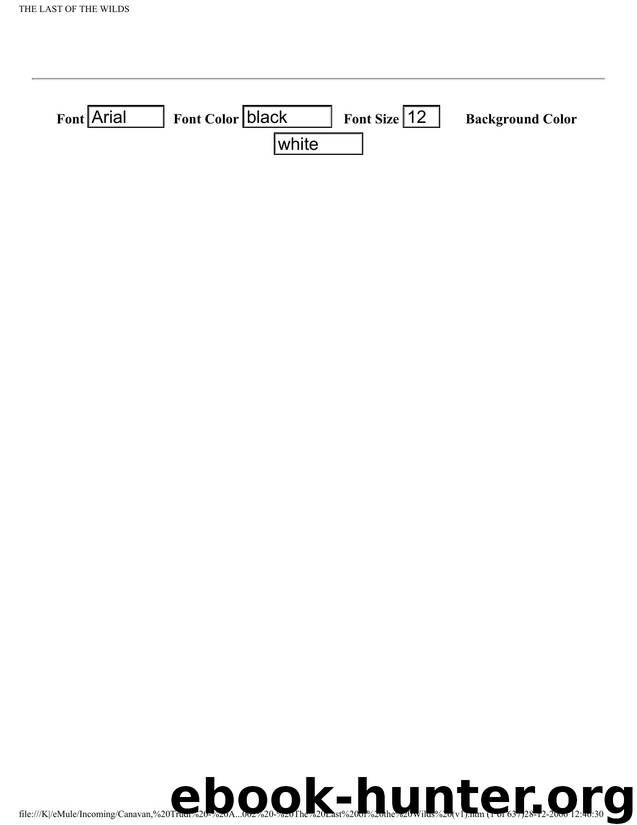 Author:Canavan, Trudi
Language: eng
Format: epub
Published: 2006-12-28T11:46:12+00:00



Thunder grumbled ominously in the distance as Auraya, Speaker Sirri and the other Siyee landed in the Open. They were welcomed by an anxious crowd, including the Speakers and tribe representatives who had stayed behind.
"The Pentadrians are leaving," Sirri announced. Whistles and cheers followed and she had to raise her voice to be heard over the noise. "They claim to have entered Si in order to make peace with us, but Auraya saw in their minds their true intent. They wished only to persuade us to worship their gods. We have sent them away."
"How can we be sure they will not turn back and attack us?" a Speaker asked.
file:///K|/eMule/Incoming/Canavan,%20Trudi%20-%20...02%20-%20The%20Last%20of%20the%20Wilds%20(v1).htm (319 of 637)28-12-2006 12:46:31
THE LAST OF THE WILDS
"We can't," Sirri answered. "We have scouts watching them. We are as prepared to deal with an attack now as before, except we now have Auraya's help."
Auraya managed to avoid frowning at this. Now that the Pentadrians appeared to be leaving would Juran want her to return to Jarime? As the Speakers crowded around she leaned closer to Sirri.
"They'll want the whole story," she murmured to Sirri, "but you, Iriz and Tyzi are exhausted. Why not suggest we gather later tonight to tell the tale over dinner?"
Sirri glanced at her and smiled crookedly. "Good idea," she said out of the corner of her mouth. "It has been a long journey," she said to the crowd. "For now, I think my fellow travellers would appreciate some time to rest and refresh themselves. Shall we meet again after dinner, in the Speakers' Bower?"
The tribal leaders nodded and murmured agreement. Auraya sensed a wave of relief from friz.
"We will speak to you then," Sirri finished.
The crowd began to disperse. As Auraya started toward her bower Sirri joined her.
"I feel like I could sleep for a week," Sirri admitted when they were out of the crowd. "I'm not used to travelling long distances. My position keeps me here."
She paused. "Despite that, I doubt I'll sleep at all."
"I wouldn't sleep well if my son was leading the scouts watching the Pentadrians. However, Sreil is a sensible young man. He will not take any risks."
Sirri looked at Auraya anxiously. "Do you think the Pentadrians will leave?"
Auraya shook her head. "I can't be sure. I caught a mind conversation between the leader and her superior. His orders were to leave, but he did warn her that his file:///K|/eMule/Incoming/Canavan,%20Trudi%20-%20...02%20-%20The%20Last%20of%20the%20Wilds%20(v1).htm (320 of 637)28-12-2006 12:46:31
THE LAST OF THE WILDS
orders might change. I do not think it likely. I doubt they'd start another war by attacking Siyee, but I would not dismiss the possibility completely."
Sirri sighed. "I don't like that we won't know of an attack for days."
Auraya nodded. "I don't like it either."
"The sooner we have priests and priestesses the better."
"Yes."
They had arrived outside Auraya's bower.
"Do try to rest at least," Auraya told the Siyee leader gently. "Even if you have to slip away to a hiding place to get some peace."
Sirri chuckled. "Might have to." She glanced around. There were few Siyee around. "Yes.
Download


Copyright Disclaimer:
This site does not store any files on its server. We only index and link to content provided by other sites. Please contact the content providers to delete copyright contents if any and email us, we'll remove relevant links or contents immediately.