Bourdain by Laurie Woolever
Author:Laurie Woolever , Date: October 8, 2021 ,Views: 617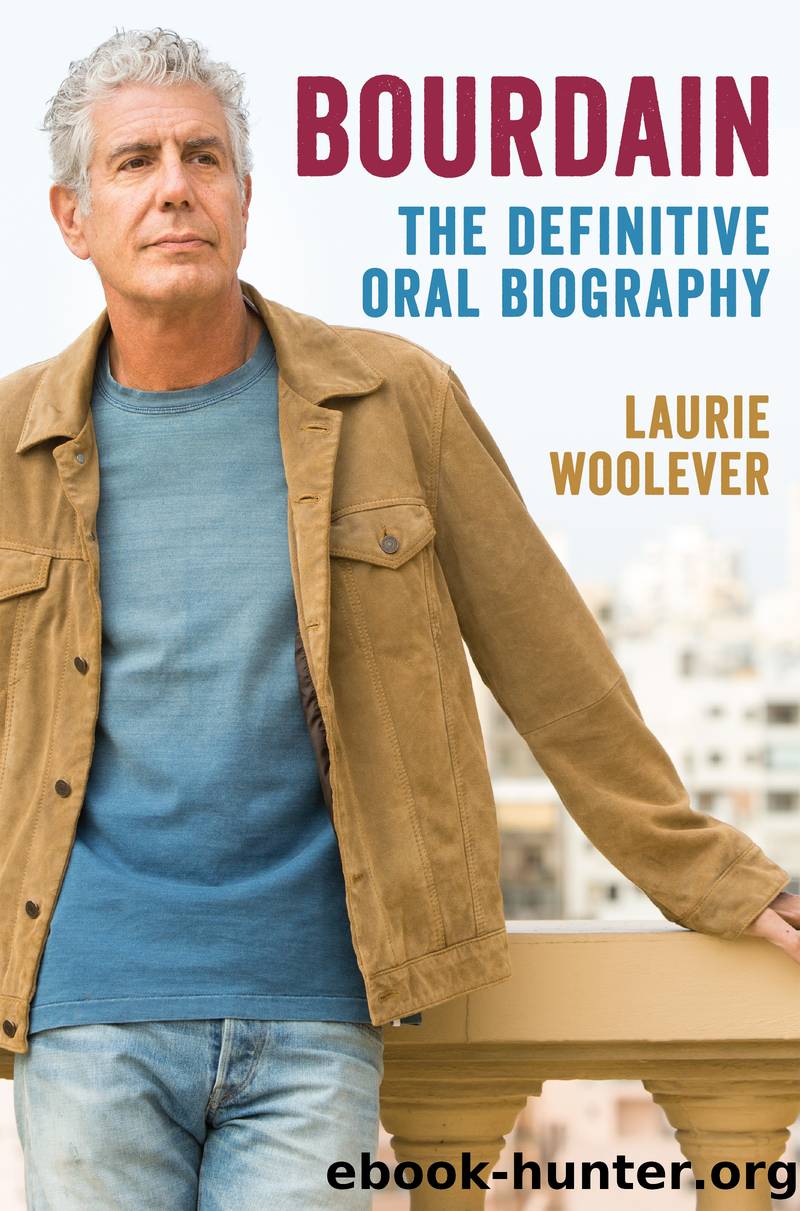 Author:Laurie Woolever
Language: eng
Format: epub
Publisher: Ecco
Published: 2021-08-16T00:00:00+00:00



33
"Everyone Felt They Knew Him"
Charisma and Reserve
NIGELLA LAWSON: His attachments with people—once he liked you and you were doing something together, there would be a very firm attachment. But it's not the same thing as just you both lying on a different sofa having a talk about nothing. Our friendship was very much based on being in the same place, at the same time, for a joint purpose. I was a close friend in the sense that I think we both felt very warmly about one another. But we didn't see each other outside those times. Which isn't to say that's a fake friendship at all. I think that was very much the pattern of his friendships.
ANDERSON COOPER: I was friendly with him, and I hugely admired him, and we got to hang out through work events. Our friendship, sadly, didn't really extend beyond that. But we would get together whenever he had a new season out, and have conversations that would end up being divided up and used to promote his series.
As somebody who was not an intimate friend in any sense, there was something about— Every time I was with him, I wanted it to go longer. And I wanted to be friends with him. I wanted him to really like me.
DEAN FERTITA: He was a great person to be around. You felt better when you were around him. The relationship I had with him, it was usually in a working environment. He was always motivated, always pushing forward. From my perspective, I forgot what was going on in my life when I was around him; I was able to lose myself in whatever project we were doing at the time.
NIGELLA LAWSON: I think there is something about those extraordinarily charismatic people, that everyone feels they're a close friend, you know, whether it's someone who's never met you, watches you on television, or whether it's all of us who knew him in our compartmentalized ways. I think that was very much part of his charisma. I also think that it's not entirely false, because I think he did make those connections like that with people.
HELEN CHO: He blended personal life with his work life. There were really no boundaries, honestly. He was a very private person, for sure. If we would go out to a restaurant, I would never put him in a place where I knew he would be a spectacle. You'd see it, the eyes on him in public, in certain cities and countries. It certainly felt like he was a spectacle. He couldn't be himself. Sometimes you'd see him in conversations in groups, and he'd command the table and go on these monologues. It was genuinely him, but it also seemed tiring.
DIANE SCHUTZ: I'm sure it's exhausting, to meet new people who want to ask the same questions, and you feel like you're putting on a dog and pony show for everybody. As his celebrity grew, he was pulled in so many more directions.
NIGELLA LAWSON: Everyone felt they knew him.
Download


Copyright Disclaimer:
This site does not store any files on its server. We only index and link to content provided by other sites. Please contact the content providers to delete copyright contents if any and email us, we'll remove relevant links or contents immediately.