Borges and Me by Jay Parini
Author:Jay Parini [Parini, Jay] , Date: August 18, 2020 ,Views: 384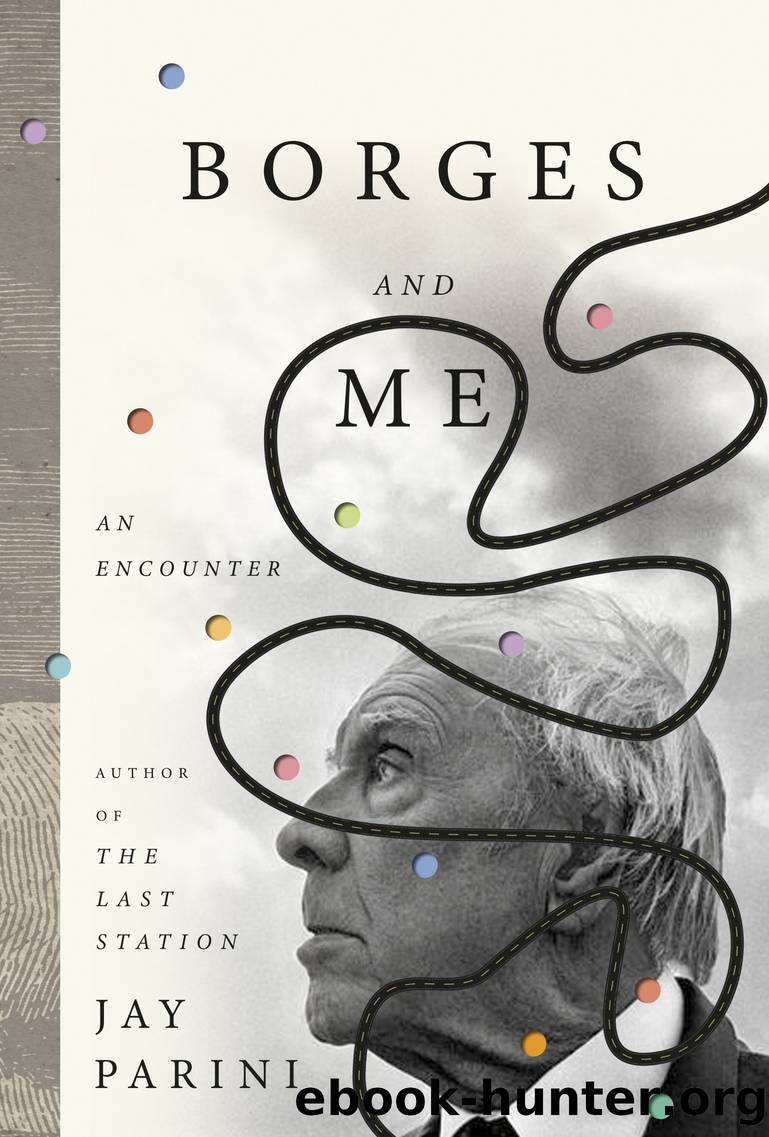 Author:Jay Parini [Parini, Jay]
Language: eng
Format: epub
Publisher: Knopf Doubleday Publishing Group
Published: 2020-08-18T00:00:00+00:00



17
A LONELY RED booth by the side of the road caught my eye. Who placed calls from here, in the middle of the Cairngorms? This was a godsend, and I pulled over abruptly.
Borges startled, as if something were wrong, and I explained that I had to make a call. It would take only a few moments. He looked weirdly disappointed, as if I had interrupted the journey for no good reason, and slumped backward, closing his eyes.
After I dialed the number, a bleeping sound came on the line, followed by a vacant buzz. I tried the operator, who asked me for the number I was trying to reach, but her voice cut out, leaving the same white buzz. One more time I tried the number for Hamilton Hall, and to my relief a young woman picked up (though it didn't seem to ring): "Second floor, Hamilton. May I help you?" I asked her to knock on Bella's door.
"I'll try," she said without enthusiasm.
She came back several minutes later with the news that nobody answered her knock. If this were really true, why would she have been gone for so long? Perhaps Bella had answered the knock but had told her hallmate to pretend she was away?
When I got into the car again, I sighed. My feelings silently filled the car.
"This is about the young woman?"
"Yes. Bella Law."
"She's even finer than this marvelous name. Am I right?"
"I find her quite wonderful. There's a rare critical intelligence, a sharpness. And she has a sense of justice—she leads an antiwar group in St. Andrews."
"Everything about your description sounds dangerous and appealing."
She was indeed both dangerous and appealing. Not unlike Alastair in many ways.
We resumed our journey, heading into an open stretch of road with stirring views on either side. I took in the measureless landscape, which swept upward along dun-colored hillsides to a series of mountains, one behind the other. I could only imagine the colors when, in their appropriate seasons, the mustard-yellow gorse or purple heather bloomed. It was sad to think of Borges and his blindness and how much richness passed him by. No wonder he lived so fully in the great room of his mind.
I confessed the difficulty of putting the images I saw into adequate words, and he nodded eagerly.
"This is, my dear, the work before us, always. To find a language adequate to what is revealed. I'm glad you know this. I feel the same consternation quite often, trying to attach feelings to words, to summon the image and declare it pure."
At a wayside inn at the edge of a remote village whose name I didn't know, we stopped for a lunch of mulligatawny and cheese rolls. Borges seemed uncharacteristically subdued during the meal, and I hoped his mood had shifted away from the frantic philosophizing, which had begun to wear thin. But as soon as we got back to the car, he turned back to metaphysics: always a latent preoccupation with him, and one that
Download


Copyright Disclaimer:
This site does not store any files on its server. We only index and link to content provided by other sites. Please contact the content providers to delete copyright contents if any and email us, we'll remove relevant links or contents immediately.