Boom Town by Garrison Keillor
Author:Garrison Keillor [Keillor, Garrison] , Date: August 6, 2022 ,Views: 24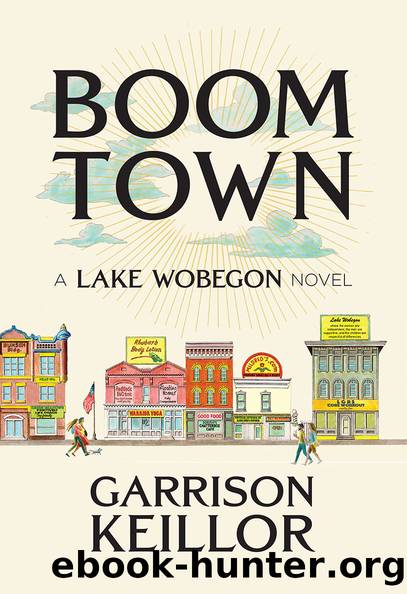 Author:Garrison Keillor [Keillor, Garrison]
Language: eng
Format: epub
Tags: Boom Town
Publisher: Prairie Home Productions
Published: 2022-03-05T00:00:00+00:00



9
The Improvement Movement
The millennial crowd took up the cause of civic improvement that summer as the money poured in, to wipe out the embarrassment of being 119th, inferior to Le Sueur and Shakopee. Some people started to talk about changing the name, Lake Wobegon, to something more positive. Someone suggested "Paradise," someone else suggested "Golden Valley," but there already is one, a Minneapolis suburb. "Okay, Golden Fields then, or Golden Plateau," he said.
Alyssa had organized a task force of millennials, Moving Forward Together (MFT), and they took up the renaming cause—put an ad in the Herald Star, pointing out that Bob Dylan wouldn't have risen to such great heights as Bob Zimmerman, that Nina Simone became High Priestess of Soul because she set aside Eunice Waymon, Norma Jeane Baker needed to be Marilyn Monroe and Elton John had to bury Reginald Dwight. They discussed classy alternatives such as Shoreview and Lakeville and MeadowWood. And then someone came up with an Ojibwe name, Manaadjitowaawin, which means "to treat all creation with respect," and how could a person argue against respect for creation, never mind that the word is not melodious to the non-Ojibwe ear, and soon there was a formal petition requesting a vote on Manaadjitowaawin, a name that few could pronounce and nobody could spell, but the millennials saw it as their way of taking ownership of the town and Wobegon would be gone once and for all, and they enjoyed saying "Manaadjitowaawin" and saying it at every opportunity, showing off their superior language skill, and so a referendum on the question: Shall the municipality of Lake Wobegon change its name to Manaadjitowaawin? Yes or No. Someone said they got the name from a children's book. "Good they don't want to name it Pooh Corner," said Mayor Alice. Myrtle Krebsbach was in favor of Manaadjitowaawin; she said, "I've wanted to live somewhere else for years, now I can do it and not have to sell the house." Alyssa and Sam presented the petition. They said "Lake Wobegon" was "loaded with negative connotations" and Manaadjitowaawin would give us a fresh start in life while also honoring the native people whose land we had taken, their culture that our ancestors had abused. "Revision means Revitalization." Alyssa offered to compensate local businesses for any expenses incurred by the change.
Alice hemmed and hawed and suggested she appoint a commission to study the matter but the Manaadjitowaawin proponents had the signatures to force a vote. Margie Krebsbach suggested a compromise, such as Nelson Grove (in honor of Stan Nelson our old football coach and veteran of Normandy) or Bradley Park (for Lyle Bradley, Korean War combat pilot and biology teacher and leader of the local birdwatchers), but MFT considered that a racist diversionary tactic and wanted an up-or-down vote on Manaadjitowaawin. And so the vote was set for June. Their motto was "Respect for Creation is Our Obligation" and Alyssa printed up signs, "Manaadjitowaawin" or We Be Gone," a clear threat. They circulated a letter
Download


Copyright Disclaimer:
This site does not store any files on its server. We only index and link to content provided by other sites. Please contact the content providers to delete copyright contents if any and email us, we'll remove relevant links or contents immediately.