Beast of Rosemead: A Retelling of Beauty and the Beast (Fairytales of Folkshore Book 4) by Lucy Tempest
Author:Lucy Tempest [Tempest, Lucy] , Date: September 2, 2020 ,Views: 338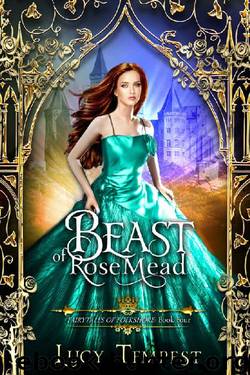 Author:Lucy Tempest [Tempest, Lucy]
Language: eng
Format: epub
Publisher: Folkshore Press
Published: 2019-06-07T16:00:00+00:00



Chapter Fifteen
I couldn't move. Couldn't speak. I just sat there, gaping at him, feeling the slow creep of horror and guilt cover me like frost on glass. Their cold pressure spread insidious fractures that felt would shatter me if I as much as drew breath.
After what felt like an age of muteness, I managed a whisper that scraped my throat raw. "H-how? The tree was full of roses when I last saw it. There was at least a dozen."
He dipped his huge head in melancholy defeat. "I can only speculate how it happened. When you crushed the rose in anger, another girl who hated me and wished me harm, the curse intensified. Now I—we don't have as much time as we'd thought."
He believed this curse would end up killing him, and presumably all the others. And before I'd come, even after what my father had done, they'd had a year or more to live. Then I'd crushed the rose and had cut their time down to three months.
What did I say to such a revelation? Certainly not "sorry." It would be adding insult after such an unforgiveable injury.
Now I could understand his rage and fright at the time. What I couldn't understand was how he'd stopped from lashing out at me, and how he'd let me go. How he'd still come to save me.
Maybe he had because he'd still believed I could fix what I'd done, could help save him and the others from the curse I'd accelerated?
I didn't care why he had. Before, I would have done all I could to help them. But now, I'd do anything to fix my mistake.
"Tell me how to help you break this curse!"
At my shrill outburst, he put down his teacup. "Not today."
"Why not? The sooner we start working on it the better."
"We are working on it, but that's a story for another day."
I couldn't find the words to object, to insist. Perhaps it was better for me to let it go for now. The least I could do after all I'd done was not pester him.
His gaze moved to the box on my lap. "Why are you carrying that around?"
I blinked at the change of subject. "I-I was hoping to return it personally this time?"
Offense sparked in his eyes. "Why? I've given you every possible gift worthy of a young lady and you've rebuffed them every time. Now that your freedom isn't an issue and you're here of your own free will, what more could you want?"
I handed him the box with a trembling hand. "I never had any use for jewelry, or go anywhere that calls for such extravagance. But if you insist on giving me something, though I can't think why you would, maybe something personal?"
Grudgingly, he took back the box. "Hard to be personal when I barely know you."
"Then let's get to know each other!"
My blurted out offer seemed to shock him.
He finally shook his head, as if rousing himself. "Fine. Is there anything you want to ask that's not about the curse?"
I jumped at the offer to change the subject.
Download


Copyright Disclaimer:
This site does not store any files on its server. We only index and link to content provided by other sites. Please contact the content providers to delete copyright contents if any and email us, we'll remove relevant links or contents immediately.