Magnus Chase The Sword of Summer by Rick Riordan
Author:Rick Riordan [Riordan, Rick] , Date: August 14, 2020 ,Views: 513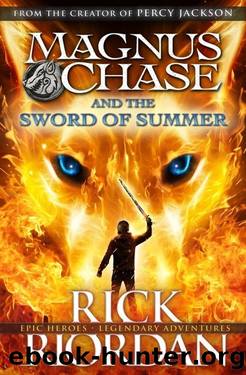 Author:Rick Riordan [Riordan, Rick]
Language: eng
Format: epub
Tags: Fantasy
ISBN: 9780141342436
Publisher: Penguin Books Ltd
Published: 2015-10-04T19:00:00+00:00



THIRTY-SIX
Duck!
Call me crazy.
I was expecting the World Tree to be a tree. Not a row of bronze ducks.
'Behold!' Blitzen said. 'The nexus of the universe!'
Hearthstone knelt reverently.
I glanced at Sam, who had joined us after a daring escape from first-period physics. She wasn't laughing.
'So …' I said, 'I'm just going to point out that this is the Make Way for Ducklings statue.'
'Do you think it's a coincidence?' Blitzen demanded. 'Nine Worlds? Nine ducks? The symbolism screams portal! This spot is the crux of creation, the centre of the tree, the easiest place to jump from one duck – I mean one world – to another.'
'If you say so.' I'd passed these bronze ducks a thousand times. I'd never considered them much of a nexus. I hadn't read the children's book they were based on, but I gathered it was about a mama duck and her babies crossing a street in Boston, so they put a sculpture of it in the Public Garden.
In the summer, little kids would sit on Mrs Mallard and get their pictures taken. At Christmas, the ducks got little Santa hats. At the moment they were naked and alone, buried up to their necks in fresh snowfall.
Hearthstone passed his hands over the statues like he was testing a stovetop for heat.
He glanced at Blitz and shook his head.
'As I feared,' Blitz said. 'Hearth and I have been travelling too much. We won't be able to activate the ducks. Magnus, we'll need you.'
I waited for an explanation, but Blitz just studied the sculptures. He was testing out a new hat this morning – a pith helmet with dark netting that draped to his shoulders. According to Blitz, the net fabric was his own design. It blocked ninety-eight per cent of the sunlight, allowing us to see his face while not covering up his fashionable outfit. It made him look like a beekeeper in mourning.
'Okay, I'll bite,' I said. 'How do I activate ducks?'
Sam scanned our surroundings. She didn't look like she'd slept much. Her eyes were puffy. Her hands were raw and blistered from our fishing expedition. She'd changed into a black wool trench coat, but otherwise she was dressed the same as yesterday: green hijab, axe, shield, jeans, winter boots – all the accoutrements of a fashionable ex-Valkyrie.
'However you do it,' she said, 'do it quickly. I don't like how close we are to the gates of Valhalla.'
'But I don't know how,' I protested. 'Don't you guys go world-jumping all the time?'
Hearth signed, Too much.
'Kid,' Blitz said, 'the more frequently you travel between the worlds, the harder it gets. It's kind of like overheating an engine. At some point, you have to stop and let the engine cool down. Besides, jumping randomly from one world to another is one thing. Travelling on a quest – that's different. We can't be sure where exactly we need to go.'
I turned to Sam. 'What about you?'
'When I was a Valkyrie, it would've been no problem. But now?' She shook her head.
Download


Copyright Disclaimer:
This site does not store any files on its server. We only index and link to content provided by other sites. Please contact the content providers to delete copyright contents if any and email us, we'll remove relevant links or contents immediately.