Baudelaire on Poe by Charles Baudelaire
Author:Charles Baudelaire , Date: March 17, 2023 ,Views: 53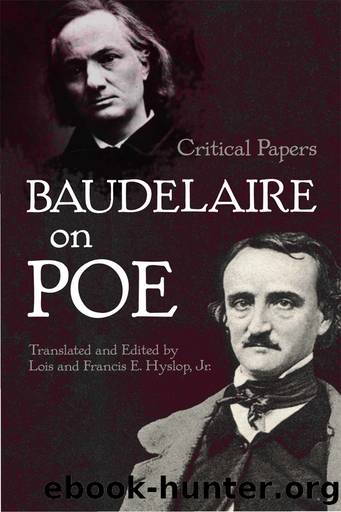 Author:Charles Baudelaire
Language: eng
Format: epub
Publisher: Dover Publications
Published: 2014-03-15T00:00:00+00:00



Notes Nouvelles Sur
Edgar Poe: 1857
Littérature de décadence!—Paroles vides que nous entendons souvent tomber, avec la sonorité d'un bâillement emphatique, de la bouche de ces sphinx sans énigme qui veillent devant les portes saintes de l'Esthétique clssique. A chaque fois que l'irréfutable oracle retentit, on peut affirmer qu'il s'agit d'un ouvrage plus amusant que l'ILIADE. Il est évidemment question d'un poème ou d'un roman dont toutes les parties sont habilement disposées pour la surprise, dont le style est magnifiquement orné, où toutes les ressources du langage et de la prosodie sont utilisées par une main impeccable. Lorsque j'entends ronfler l'anathème,—qui, pour le dire en passant, tombe généralement sur quelque poète préféré,—je suis toujours saisi de l'envie de répondre Me prenezvous pour un barbare comme vous, et me croyez-vous capable de me divertir aussi tristement que vous faites? Des comparaisons grotesques s'agitent alors dans mon cerveau; il me semble que deux femmes me sont présentées: l'une, matrone rustique, répugnante de santé et de vertu, sans allure et sans regard, bref, NE DEVANT RIEN QU'A LA SIMPLE [The French text ends here.]
I
Decadent literature!—Empty words which we often hear fall, with the sonority of a deep yawn, from the mouths of those unenigmatic sphinxes who keep watch before the sacred doors of classical Esthetics. Each time that the irrefutable oracle resounds, one can be sure that it is about a work more amusing than the Iliad. It is evidently a question of a poem or of a novel all of whose parts are skillfully designed for surprise, whose style is magnificently embellished, where all the resources of language and prosody are utilized by an impeccable hand. When I hear the anathema boom out, —which, I might say in passing, usually falls on some favorite poet,—I am always seized with the desire to reply: Do you take me for a barbarian like you and do you believe me capable of amusing myself as dismally as you do? Then grotesque comparisons stir in my brain; it seems to me that two women appear before me: one, a rustic matron, repugnant in her health and virtue, plain and expressionless, in short, owing everything to simple nature; the other, one of those beauties who dominate and oppress one's memory, adding all the eloquence of dress to her profound and original charm, well poised, conscious and queen of herself,—with a speaking voice like a welltuned instrument, and eyes laden with thoughts, but revealing only what they wish. I would not hesitate in my choice, and yet there are pedagogical sphinxes who would reproach me for my failure to respect classical honor.—But, putting aside parables, I think it is permissible to ask these wise men if they really understand all the vanity, all the futility of their wisdom. The phrase decadent literature implies that there is a scale of literatures, an infantile, a childish, an adolescent, etc. This term, in other words, supposes something fatal and providential, like an ineluctable decree; and it is altogether unfair to reproach us for fulfilling the mysterious law.
Download


Copyright Disclaimer:
This site does not store any files on its server. We only index and link to content provided by other sites. Please contact the content providers to delete copyright contents if any and email us, we'll remove relevant links or contents immediately.