Astro Boy Essays by Frederik L. Schodt
Author:Frederik L. Schodt , Date: March 15, 2023 ,Views: 68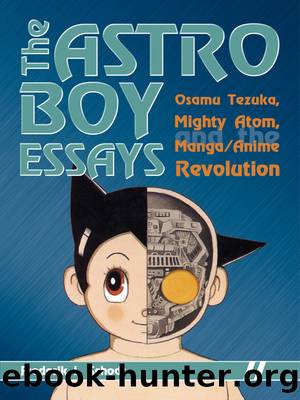 Author:Frederik L. Schodt
Language: eng
Format: epub
ISBN: 978-1-933330-54-9
Publisher: Stone Bridge Press



Japan today is known as the "Robot Kingdom" for the huge number of industrial robots working in its factories, for the aggressive research being done in its labs on humanoid robots, and for the hundreds of robot-themed manga and anime films its artists create and export to the world. There is, arguably, no other nation where robots—whether real or imaginary—have been so enthusiastically embraced. In this context Mighty Atom has always functioned as far more than an ordinary cartoon character. Over the years, Atom has become a symbol of state-of-the-art Japanese technology.
When Tezuka first created Atom in 1951, any sort of Japanese robot seemed like a wild dream. This was especially true because, after the defeat of World War II, Japanese technology was regarded not as advanced, but as terribly backward. Nearly everyone agreed. The Shōwa emperor, in a letter to the young crown prince at the end of World War II, bared his soul and wrote that Japan had lost the war because of overconfidence, and because "our armed forces put too much emphasis on the spiritual side and forgot science." Japan was so poor at the beginning of the 1950s that Tezuka, still working as a medical intern, found that most of the patients he was treating were suffering from malnutrition. "I realized very clearly," he commented much later, "that Japan lost the war because of science and technology…. While the U.S. was dropping atomic bombs, the Japanese military were trying to light forest fires in America by sending incendiary balloons made of bamboo and paper over on the jet streams. We developed an inferiority complex about science." It was all the more reason that, in 1951, what was billed as a "science manga" would fire the imagination of young Japanese readers.74
Tezuka often incorporated scientific ideas—at least pseudo-scientific ideas—into all of his manga during his career, even if the manga were complete fantasies. As a physician by training, it was something that he was very good at, and something that he loved to do. Usually there was a medical connection, especially if the protagonists of the stories were humans, but with Mighty Atom he also had a chance to play with ideas related to artificial intelligence and what the Japanese today call mechatronics, or a combination of electronics and mechanical engineering. Mighty Atom was science fiction created in 1951 but set at the beginning of the twenty-first century, so when Tezuka first established Atom's design and technological capabilities in the early fifties, he had to think far into the future. He also had to supply readers with some sort of imaginary "timeline," giving the technological context and background for Atom's creation.
Download


Copyright Disclaimer:
This site does not store any files on its server. We only index and link to content provided by other sites. Please contact the content providers to delete copyright contents if any and email us, we'll remove relevant links or contents immediately.