Appeasement of Radhika by Muddupalani
Author:Muddupalani [Muddupalani] , Date: May 6, 2018 ,Views: 628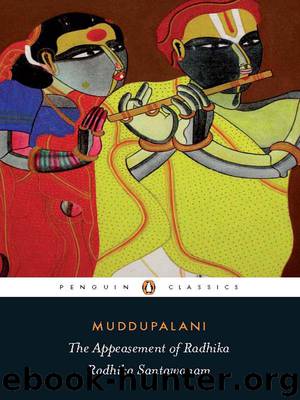 Author:Muddupalani [Muddupalani]
Language: eng
Format: epub
ISBN: 9788184755640
Publisher: Penguin Books Ltd
Published: 2011-12-14T05:00:00+00:00



Chapter Three
Ila pleads with Madhava to give up Radhika
Radha's growing jealousy of Ila
Parrot says Krishna is obsessed with Ila
Radha curses her fate
Parrot narrates how Ila's love has transformed Madhava
Radha's unbearable anger
Maids pacify Radha
Seeking Manmatha's help
Maidens console Radha
Krishna spies the parrot
Krishna worries, thinking of Radhika
Brother-in-law taunts Krishna
Madhava explains his love for Radha
Krishna ridicules Manmatha
Maids placate Krishna
Hail to young Krishna,
Ruler of women's hearts
Lord of kings and giver of boons
King of the three worlds!
1. 'Listen carefully,' continued Suka, son of Vyasa,
One who had experienced God.
Looking at Raja Janaka
With unsurpassed sweetness
Spoke these words:
2. 'Unrelenting, overwhelmed with desire
Breasts pushing against her blouse
Lotus face shining
Fragrant with perfume and paan
Enticing and coy,
Ila pressed herself against his broad chest
Over and over again.'
From early childhood, Ila had been jealous of the proximity and hold Radha exercised over Krishna but, very cleverly, had never revealed her feelings.
Overhearing a conversation between Radha and Madhava, where Krishna dismisses her as being 'a novice', Ila bides her time. After the wedding, she uses every trick in the book to make her new husband happy, to the extent that Krishna acknowledges her as his Queen of Love, agreeing in a moment of weakness to even leave Radha.
3. 'Making love rigorously
The lotus-eyed lady prayed fervently
And at the exact moment of ecstasy
To her lover and lord saying,
"My dear lord, promise me true,
To give up Radhika forever!"
And Madhava, consumed with bliss,
Agreed and assured her,
Rather readily.
4. 'Ah, but do promises made by men ever hold good?
Is there ever any truth in their words?
Do they keep their commitments?
My dear doe-eyed damsel,
It's only your love
If only you know
That will keep growing.'
5. On hearing the parrot's words, like swans on hearing the sound of thunder, like deer hearing the roar of tigers, like a parrot at the sound of a cat, like elephants at the roar of lions, her body trembling, heart racing, disturbed and worried, her love for Nandabala's son causing her endless trouble, Radha swooned and fell in a faint.
Seeing this, the maids surrounded her, concerned and worried. Wiping sweat off her brow, applying fresh scented water, fanning her, applying cool karpuram, they revived her and advised her that 'her Krishna could no longer be trusted'.
6. Well into noon did Radha open her eyes
Heaving deep sighs, hissing like a snake,
Nose twitching, her moon-like face flushed with anger,
Lips quivering like a fresh bud blown by winds
Eyes red with anger and grief,
Sorrow personified.
Tired and distressed,
She asked her parrot,
Quiet and in control but
In a trembling voice:
7. 'Did I hear it right?
Ila said this to him, without fear?
And that unfeeling Gopala agreed?
O Rama! Well then, what else transpired?
Isn't it enough if they live happily ever after?
8. 'Has she forgotten that she learnt
To sing like the nightingale from me?
Has she forgotten she learnt to write poetry from me?
Has she forgotten she learnt to play musical instruments from me?
Has she forgotten that she even learnt to make love from me?'
9. 'Has she forgotten the lashings
I gave her when she was my pupil?
Now that she has Murari,
Has she forgotten everyone and everything?
10. 'Yesterday's little grain is
Download


Copyright Disclaimer:
This site does not store any files on its server. We only index and link to content provided by other sites. Please contact the content providers to delete copyright contents if any and email us, we'll remove relevant links or contents immediately.