Alice Cooper, Golf Monster by Alice Cooper
Author:Alice Cooper , Date: November 17, 2020 ,Views: 9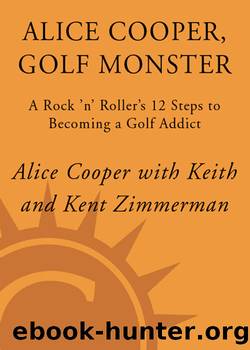 Author:Alice Cooper
Language: eng
Format: epub
Tags: Fiction
ISBN: 9780307394255
Publisher: Crown/Archetype
Published: 2007-05-01T00:00:00+00:00



Outside the Troubadour in Los Angeles in 1974.
Left to right: John Lennon, Anne Murray, Harry Nilsson, Alice Cooper, and Micky Dolenz—right around the "Lair of the Vampires" era.
Chapter 16
The Lair of the Vampires
I WAS LIVING IN A MANSION IN MALIBU in 1975. Beer and success went hand in hand, while whiskey waited in the wings. The phenomenal acceptance of Nightmare was coming at me fast, like a speeding meteorite. There were musicians and celebrities in our dressing room at the end of every show—John Lennon, David Cassidy, Lou Reed, Todd Rundgren, the Doors, Aerosmith, Andy Warhol. I was on constant tour. The original band was history. Now I was surrounded by topflight session musicians, an able road crew, a private jet, and Shep's management organization that saw to our every need, 24/7.
As soon as I opened my eyes in the morning, my first reflex was to reach over and grab a cold beer from a cooler stash I had an arm's length from my bed. Then there was more beer on the jet. More and more beer all day. The world was at my feet. I wasn't shooting heroin and I wasn't snorting cocaine—none of that evil stuff. It was just beer. Except nobody noticed that I was drinking more than a couple six-packs a day.
Even when I was drinking at my heaviest, I was Mr. Nice Guy. I wasn't an angry, difficult, mean, or fighting drunk. I was a nice guy drunk—a rich, successful, respectable drunk—and I subconsciously credited the alcohol for giving me the fame and gold records, and the drive and courage to succeed. But I was also a pitiful guy. I couldn't say no to anybody about anything, because I hated conflict. I wish I could have said no to alcohol, but instead, I became the most functional alcoholic you could ever meet—a virtual touring and recording machine. Push me on stage or in a studio, and I'd never miss a word to a song. Put me in a movie and I never flubbed a line. I could do The Tonight Show (and I did twice) and be as lucid as any of Johnny's sober guests. You'd never imagine I was a drunk. Those closest to me didn't realize how much I was drinking.
Pretty soon I was drinking up to a case of beer a day.
It got to the point where I perfected (and rationalized) my alcoholism so well, I played by a set of ground rules. I'd get up in the morning and, after a cold brew, I'd promise myself, "Okay, I won't drink hard liquor until after ten o'clock at night." Then pretty soon the ground rules shifted. I wouldn't start drinking whiskey until nine o'clock. Then eight o'clock. It went on like that. Soon I promised myself I would not drink the hard stuff until noon.
Eventually, though, the beer had no effect on me. In order to get high, I now needed to get up in the morning and have a few beers, then pour myself a glass of Coca-Cola and add in about three or four shots of Seagram's VO.
Download


Copyright Disclaimer:
This site does not store any files on its server. We only index and link to content provided by other sites. Please contact the content providers to delete copyright contents if any and email us, we'll remove relevant links or contents immediately.